LONDON, Nov 22, 2009 (AFP) - Arsenal manager Arsene Wenger refused to blame the absence of Robin van Persie as his team failed to score for the first time this season in a 1-0 defeat at Sunderland.
But the evidence of a below-par performance suggests the loss of the Dutch striker for up to six weeks because of an ankle injury could be a major handicap to Arsenal's title prospects.
They are now eight points behind Chelsea and the leaders' visit to the Emirates Stadium on Sunday (November 29) is looking like a contest the Gunners cannot afford to lose.
Wenger howver glossed over the significance of van Persie's absence, preferring to blame slack defending when Darren Bent scored Sunderland's 71st-minute winner.
The Frenchman said: "I don't want to focus on an individual. It's down to the fact we made a big mistake at a corner. Some of our players were not at their best and we gave a goal away in the only situation where Sunderland were likely to score - from a set piece.
"We can only blame ourselves because we didn't score. That's worrying because going forward we lacked sharpness and the desire to get behind defenders. If you want to score goals, you have to get behind them."
Wenger was less than complimentary about Sunderland, who grew in confidence after surviving an early scare when Marton Fulop saved well from Tomas Rosicky.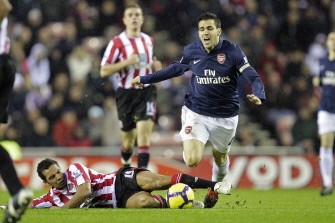 Sunderland's Kieran Richardson (L) vies with Arsenal's Cesc Fabregas (R) during the English Premier League football match between Sunderland and Arsenal at the Stadium of Light, Sunderland, on November 21, 2009. AFP PHOTO
Arsenal failed to trouble Fulop for the rest of the game as Sunderland's determined approach finally paid dividends after the interval.
However, Wenger insisted: "We didn't really feel under threat from Sunderland - just look at what they created. Take emotion away from it and you will be surprised at how little they created. But they took their chance because they had some people who wanted it more than us.
"We had more of the ball and they tried more to destroy. They tried to stop us from playing and were sometimes on the fringes of the rules, but that's part of the game."
Bent has now scored this season against the so-called big four of the Premier League following earlier goals against Manchester United, Chelsea and Liverpool.
And this performance earned praise from manager Steve Bruce who again urged England manager Fabio Capello to include him the squad he takes to the World Cup finals.
"You'd have to take him to South Africa because he scores goals against big clubs," said Bruce, who is acutely aware that Bent failed to make an impact in the recent international against Brazil.
"I'm sure he won't be judged on 55-minute friendly. I don't think Mr Capello will take any notice of that game. He will pick a team in form and we have an outstanding goalscorer in Darren. His overall workrate and appetite was great after missing a penalty at Tottenham and the England debacle."
Sunderland win was their first in five games and was immensely satisfying for Bruce. "It's always nice to beat one of the big four," he said.
"We played well, but you've always got to play well to beat Arsenal. You can't say this was a lucky win. It is not as if we created chance after chance.
"We matched them in middle of the park where they are so fluid. We had a game plan and got a result that we deserved. We've played well recently and got nothing for it, but we got our reward today for sticking at it."