Goalie Yoshikatsu Kawaguchi put out a stunning show to help defending champion Japan beat 10-man Australia 4-3 in a penalty shootout after a tense quarterfinal at Indonesia's Gelora Bung Karno Stadium on Sunday evening, ended 1 – 1.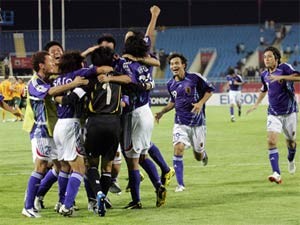 Japan's goalie Yoshikatsu Kawaguchi (black) celebrates with teammates after the penalty shootout
Australia led when John Aloisi took advantage of slack marking to score at the near post after 69 minutes, but the equalizer came just two minutes later from Naohiro Takahara, who fired home his fourth of the tournament.
The Japanese side scored from their first four penalty kicks and goalkeeper Kawaguchi saved from both Harry Kewell and Lucas Neill to send the champions through.
Competing in their third Asian Cup, Japan will meet Saudi Arabia in the semi-finals at Viet Nam's My Dinh Stadium tomorrow.
Both sides started cautiously and the defending champions looked the livelier side as they controlled position.
But the Socceroos took a bizarre lead in the 69th minute when Kewell's right corner somehow managed to squeeze past several players in the penalty area into Aloisi's path, and he made no mistake to tap home from the near post.
However, the defending champions responded soon after when Takahara delicately held off defender Beauchamp from inside the six-yard box before finishing with aplomb to net his first goal in this year's competition.
Japan's hopes of progressing improved further as time was running out when midfielder Grella was sent off  after hitting Takahara in the face with a flailing arm as both went up for a header, but Osim's team was unable to take full advantage.
Not surprisingly, the championship-holders continued to control possession but lacked the creativity needed to breach the tightly packed Australian defense.
The game went into extra-time but Australia stood firm to keep the Japanese side at bay, even though there was a scare for the Socceroos with just seconds remaining.
A lofted cross into the penalty area was met by Shunsuke Nakamura's flying volley, only for stopper Schwarzer to magnificently turn the ball away and take the game into a penalty shootout.
Goalie Kawaguchi guessed correctly to deny Kewell and Neill while Nakamura and Yasuhito Endo converted successfully before Tim Cahill put Australia on the board.
Yuichi Komano made it 3-1, but Nicky Carle kept Australia alive with his spot kick. The pressure increased on Japan when Takahara put his effort over the bar and when David Carney scored. But Nakazawa made no mistake to seal a 4 – 3 shoot-out victory for Japan.