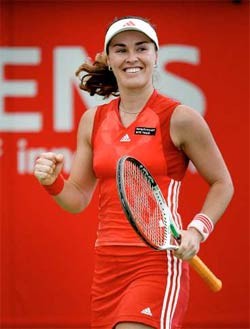 Martina Hingis

Martina Hingis defeated Dinara Safina 6-2, 7-5 on May 21 to win the 1.34-million-dollar Rome Masters and claim her first title of this year's comeback to tennis.



The Swiss was dominant on the clay of the Foro Italico, racing away to 5-0 and surviving a break, which she quickly put right to claim the opening set 6-2 against her Russian opponent.

Hingis ran into resistance as she tried to serve it out 5-4 in the second set, with the gritty Safina salvaging two match points to battle on.

A break of Hingis for 5-all stretched the drama before the Swiss wrapped up victory after saving three break points in the final game and coming through on a fourth match-winning chance after one hour, 26 minutes.

Victory consolidates a miracle comeback to the game Hingis quit in late 2002 with chronic foot and ankle problems.

The victory marked the 41st in singles for a 25-year-old who lifted five Grand Slam trophies before turning 20.

Hingis will move to an estimated ranking of 14th on Monday with her status rising as the French Open begins in a week in Paris.

Victory marked the second Rome crown for Hingis, who also won it in 1998 over Venus Williams, whom she stopped in a Saturday semifinal to reach the Foro Italico title date.

The 16th-seeded Safina had mown down top opposition all week, beating favourite Kim Clijsters and following on with seeds and fellow Russians Elena Dementieva and Svetlana Kuznetsova.

Hingis showed promise of things to come in February when she played the Tokyo final against Dementieva in February, after reaching the Australian Open quarters.

She now stands 21-3 since returning to the sport in January.