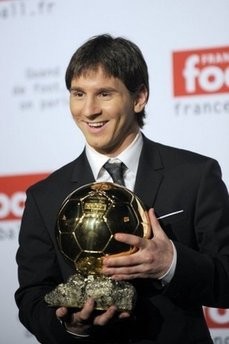 Barcelona's Argentinian forward Lionel Messi poses with his trophy after receiving the European footballer of the year award, Golden Ball, on December 6 (AFP photo)
ABU DHABI, Dec 8 (AFP) – Barcelona will go into the FIFA Club World Cup as favourites to win the competition for the first time, but winger Lionel Messi says they must learn the lessons from their last involvement.
The Club World Cup is the only international honour missing from Barcelona's well-stocked trophy cabinet after their previous attempt to win it, in 2006, ended in a 1-0 defeat to Brazilian side Internacional.
"I think the most important lesson we've learned is not to be over-confident and to get to know our opponents in depth," said Messi, in an interview with the FIFA website on the eve of the December 9-19 tournament here.
"The last time we maybe thought that the other sides were a bit below us and that's something we can't afford to let happen again if we want to be champions."
Victory in the tournament would crown a remarkable year for current Spanish league leaders Barcelona, who last season won the Champions League, Spanish league and King's Cup to claim an unprecedented treble.
It has also been an unforgettable 12 months for Messi, who last week became the first Argentine player to be named European Footballer of the Year when he was awarded the prestigious Ballon d'Or by France Football magazine.
"It's one title the club has never won and it's one title that?s eluded most of the players at Barca," said Messi.
"It's also the last competition of what's been a historic 2009 and we want to end the year in style. On a personal level, I'm really looking forward to it because it will help me keep on developing."
Barcelona's strongest challenge is likely to come from Messi's homeland, with South American champions Estudiantes set to enter the competition at the semi-final stage alongside the Catalan club.
Estudiantes won the Intercontinental Cup, the precursor to the current competition, by beating Manchester United in 1968 and finished runners-up in the two years afterwards.
Their participation in Abu Dhabi marks a return to the event after a 39-year absence, but a strand of continuity running between the sides can be found in the shape of Estudiantes midfielder Juan Sebastian Veron, whose father Juan Ramon starred in the 1968 victory over United.
"It's an enriching experience for all of us, for the older players, who will be leading the way, and the younger ones, who'll be taking up the baton in the future," said Veron.
"You have to make them aware of what it means to be there, how fantastic it is. It's also important that nobody sits back and says 'I've made it now'. With a tournament like this you have to want to come back and experience it again."
The competition's other teams cannot boast players with reputations to match Messi or Veron, but all - with the exception of host club Al-Hahli - are continental champions.
South Korean side Pohang Steelers (Asia), Congolese outfit Tout Puissant Mazembe (Africa) and Mexico's Atlante (CONCACAF) will provide the biggest threat to the two heavyweights.
Auckland, who play Al-Hahli in the tournament's opening game on Wednesday, are the reigning champions from the Oceania region.
"We didn?t score a single goal in 2006 and that was a big disappointment for us," said Auckland captain Ivan Vicelich.
"We've prepared well this year though, and we're going to score a lot of goals. We've been talking about this match for weeks now and we need to go out and execute our gameplan."
The winners of the match between Al-Hahli and Auckland will join TP Mazembe, Atlante and Pohang Steelers in the quarter-finals, where a potential meeting with Pep Guardiola's Catalan conquerors Barcelona will be at stake.