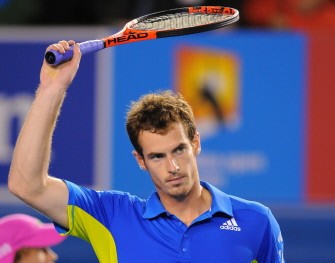 Andy Murray waves following his victory over Kevin Anderson of South Africa during their men's singles first round match on day one in Melbourne on January 18, 2010 (AFP photo)
MELBOURNE, Jan 18, 2010 (AFP) - Scotland's Andy Murray was in imposing form as he breezed into the second round of the Australian Open with a straight sets win over qualifier Kevin Anderson on Monday.
Murray, fancied to become the first British man to win a Grand Slam singles titles since 1936, could scarcely have been more impressive as he destroyed the South African world number 148 in just 97 minutes, 6-1, 6-1, 6-2.
The match wasn't quite as one-sided as the score suggested, with Anderson genuinely testing the Scot at times.
But the fifth seed showcased an array of winners that backed his unwavering personal belief that he can take out the year's first Grand Slam.
Murray reeled off 37 winners in his brief time on court, and also showcased his improved volleying game by losing just two points from the 18 times he ventured to the net.
However, one area of concern was his first serve percentage, which was just 35 percent for the match.
The tall Anderson tried to serve and volley his way out of trouble against the 22-year-old, but each time he seemed in a dominant position at the net, Murray would come up with a crisp passing shot.
Down 0-40 in the second game of the second set, Murray reeled off a string of winners to hold serve and then immediately broke the Anderson serve in a period of play that reflected the tone of the whole match.
When Anderson finally broke the Murray serve in the third set, the Scot simply broke back as he reeled off the next three games to take the match.