ROME, Dec 21, 2009 (AFP) - It has not been a great footballing year in Italy despite the world champions' qualification for next year's World Cup in South Africa.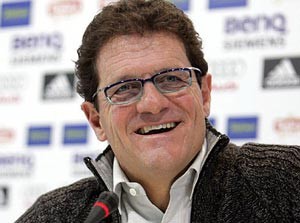 England coach Fabio Capello, an Italian
In fact, probably the greatest Italian successes have been by expats.
Fabio Capello has turned England into genuine World Cup contenders and Giovanni Trapattoni took a hotch-potch Ireland team to the brink of the finals.
Carlo Ancelotti started his Chelsea career in excellent fashion and even unheralded pair Andrea Barzagli and Cristian Zaccardo helped VfL Wolfsburg win a first ever German title.
But back home, Italian football has been stagnating.
Italy did qualify for the World Cup but were far from impressive in doing so, despite winning their group.
They really had little in terms of comeptition with a Bulgaria team over-reliant on the inconsistent Dimitar Berbatov and an Ireland that can't put out a team made up entirely of Premier League players.
Italy struggled to beat the likes of Cyprus and Georgia, although they did manage to do the double over both, and needed a last gasp equaliser in Dublin to secure their progress.
Their Confederations Cup campaign was an embarrassment with a 1-0 defeat to Egypt and a 3-0 thrashing at Brazil's hands ensuring they did not even make it past the group stage.
This last year also saw Italian clubs record their worst ever performance in the Champions League since the European Cup was changed to allow non-champions into the competition.
Fiorentina didn't even make it out of their group while Inter Milan, Juventus and AS Roma all crashed out in the second round -- all to English opposition.
Not one Italian team in the quarter-finals was a first in Champions League history.
And they fared worse in the UEFA Cup as even AC Milan could not go very far, losing to Werder Bremen on away goals in the last 32, the same round that saw Sampdoria and Fiorentina exit to leave no Italian teams involved in Europe beyond the beginning of March.
So to domestic matters and it was a successful entry into Italian football for the self-styled 'Special One' Jose Mourinho.
Taking over from the sacked Roberto Mancini -- for whom three straight Serie A titles proved inadequate -- he made it four in a row for Inter but his failure to get the team beyond the second round in Europe saw him under pressure right from the off in his second season.
Inter have won only four out of 14 Champions League matches under Mourinho and although he guided them through the group stages again this season, having drawn Chelsea in the second round -- a year on from pulling Manchester United out of the hat -- his job is again looking slightly insecure.
But in Serie A they have been untouchable, winning the 2008/09 title by 10 points from Milan and Juventus, the three traditional powerhouses returning to the top three positions for the first time since the 2006 calciopoli match-fixing scandal that hit Milan and Juve hard.
It was helped too by AS Roma's demise as the cash-strapped club consistently fail to find adequate replacements for the stars that leave.
The first half of the current season has been much the same. Hype and hope for Milan and Juve but in the end neither looks capable of pushing Inter to the wire.
Mourinho's team head into the Christmas break with an eight-point lead.
The two highest-profile foreign players both left Italy in the summer heading for Spain in big-money moves.
Kaka left Milan for Real Madrid and Zlatan Ibrahimovic quit Inter for Barcelona, although Samuel Eto'o's arrival in return has softened the blow, the Cameroon forward proving more prolific than the Swede.
The biggest arrival, though, was David Beckham on a half-season loan to Milan in January, a move he will repeat in 2010.
Beckham was largely a success, not least for his attitude and application, and brought some much-needed attention and glamour to Italy.
But even so, he didn't help Milan's results improve.
It all leaves little to get excited about in 2010. Once again a dreadful Champions League second round draw means that no-one will be surprised to see Inter, Milan and Fiorentina -- Juve failed to even make the knock-outs -- bite the dust.
There's nothing either to suggest that the Serie A trophy need be taken out of its current cabinet and even at the World Cup, if Italy play to their form, they'll do well to make the quarter-finals.
But that might just be the spark they need for a 2006-style stumble all the way to victory -- Italy's last two World Cup triumphs coming in the wake of turbulent build-ups.