AC Milan's Brazilian star Kaka pledged his future to the European champions on Tuesday.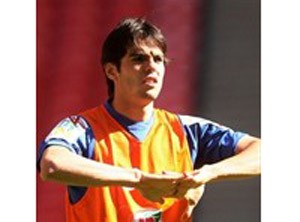 AC Milan's Brazilian star Kaka
The talented playmaker, who was inspirational in Milan's UEFA Champions League triumph last summer, is said to be top of Real Madrid president Ramon Calderon's wanted list.
Calderon was reportedly ready to break the bank to land Kaka, but although tempted to swap Italy for Spain, the 25-year-old Brazil international insisted he is very happy at Milan.
"Real Madrid are a fantastic club, but money isn't everything," he said.
"I have also learned from friends who have left Milan how they deeply regretted doing so. I want to make history here."
Kaka's current contract with Milan - which reportedly brings him 5.5 million euros a year - ends in 2011.
According to Italian media, Milan are preparing an improved contract for Kaka to prevent him from considering offers to play elsewhere.