Ten-man Korea claimed third place in the 2007 Asian Cup as defending champion Japan slipped to be defeated 6 – 5 on penalties in a game that they'd seemed to control entirely.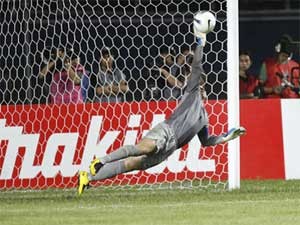 Korea's goalkeeper Lee Woon-jae denies a penalty kick in the shootout
It was the third consecutive 0-0 draw for the Koreans but their victory in the third place playoff meant an automatic berth in the 2011 Asian Cup finals.
 
Japan started the match brightly and created the first chance seven minutes in when Shunsuke Nakamura sent Yasuhito Endo clear with a neat chip only for the midfielder to drag his shot wide of the post.
Three minutes later, defender Kang Min-soo became the first player to go into the book of United Arab Emirates referee Ali Al Badwawi for a foul on Naohiro Takahara on the edge of the area.
However, the Japanese failed to take advantage from the resulting free-kick as Yasuhito Endo sent the ball directly at goalkeeper Lee Woon-jae.
The Koreans began to get into the game and had a chance of their own in the 16th minute when Yeom Ki-hun fired a fierce shot from the edge of the area that went narrowly wide of the Japanese upright.
Japan survived another scare in the 25th minute when Yeom fired another free kick towards goal only to see keeper Yoshikatsu Kawaguchi punch the ball out for a corner.
Four minutes before the break, Kim Do-heon tested Kawaguchi with a fierce shot from outside the area but the Japanese skipper punched the ball away once again.
Two minutes later, Japan very nearly opened the scoring after a corner from Shunsuke Nakamura was met in the six-yard box by Yuji Nakazawa, but the central defender was unable to beat Lee Woon-jae who made a point blank save while Naohiro Takahara failed to follow up as the loose ball was hacked off the goal line by Kim Do-heon.
The Koreans had the upper hand at the start of the second half and went close in the 54th minute when Kim Chi-woo sent a powerful drive over the crossbar while Lee Chun-soo's header off a Kim Do-heon corner bounced narrowly wide.
The match took a dramatic turn in the 56th minute when Kang Min-soo was given his marching orders after a body check on Takahara.
Korea's Coach Verbeek and two of his assistants were also dismissed by the referee for taking their protests too far.
Japan nearly took advantage of the extra man in the 73rd minute when substitute Naotake Hanyu received a neat pass from Shunsuke Nakamura and fired in a powerful shot that was superbly blocked by Lee Woon-jae.