Your FIFA.com story has been successfully e-mailed to your friend(s).Parting is such sweet sorrow. That, certainly, was how Kristine Lilly found the bittersweet experience of bidding the fondest of farewells to a tournament in which she has enjoyed unrivalled success. The bronze medal the USA captain collected in Shanghai was, after all, her fifth at the FIFA Women's World Cup, and departing the scene of an American victory to a standing ovation proved a fitting send-off.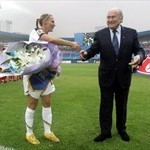 FIFA president Joseph S. Blatter shakes hands with USA's captain Kristine Lilly
The Chinese fans' generous tribute also served as a reminder, were any needed, that this venerable veteran of 337 international appearances has earned the esteem of all within the women's game. "Yeah, that felt great," Lilly told FIFA.com afterwards. "It was so nice to be recognised in that way, and my team gave me a big hug when I came off too, which was a nice touch. The World Cup is a fantastic event to be a part of and I feel proud and honoured to have been able to take part in so many.
"Obviously I wish we could have done a bit better at this one but I'm glad our last game was a win and I think we've made our fans back home in the US proud of us again. I'm certainly proud of this team. It nice to see some young players scoring and I've no doubts that the future for this team is bright."
'One of the best ever'
Lilly's confidence may well be justified, but the future for the US will also be more uncertain without a player who, for years, has led by example, setting exemplary standards on and off the park.
Abby Wambach summed up the Lilly's influence - and the impact of her impending departure - when she told FIFA.com: "If there's one person in this team who speaks and everyone listens, it's Lil. She's our woman of wisdom and she just epitomises everything about what a team player should be. I'm proud to have been able to have played with her for so long and I can say without doubt that it has made me a better player and a better person.
"She's become one of my best friends and for all that we are a great partnership on the field, I love and respect her so much as a person that I think I will actually miss her more off the field. And that's saying a lot because, as a player, she has been one of the best ever."
Wambach's was far from an isolated tribute, with Lori Chalupny lauding Lilly as "the hardest working, most selfless player around", and coach Greg Ryan admitting that his job would have been immeasurably more difficult without his captain's inspirational influence.
"Kristine is such a great captain, she has been so important in bringing everyone together," he said after the forward's FIFA Women's World Cup farewell. "I honestly don't know how I would have done this job without her. She just encompasses everything we do in terms of showing character, leading by example, her attitude to training and the way she treats other players. The way she carries self as a professional has taught our younger players what it entails to be member of the US women's team."
One last adventure?
Never during her 20-year international career has Lilly's leadership, integrity and ability to unite been more vital to the US than over a turbulent past week dominated by the tawdry saga that evolved around Hope Solo. "That whole thing has not been a pleasant situation at all and it certainly doesn't represent what the US team is about," was Lilly's verdict.
"This game (against Norway) shows what we're about and it's important we handle ourselves in the right way on and off the field. We had to show our fans it's not about anything else except us and the game."
As for Lilly herself, she will now use the next couple of months to decide whether her FIFA Women's World Cup farewell appearance will also act as her US swansong. The challenge of leading her country on to the Beijing Olympics is, however, proving tempting, with the 36-year-old admitting: "I love this group and still feel we have something to accomplish."
Five FIFA Women's World Cup medals, 337 caps, innumerable accolades, but still seeking more. Whatever her decision, the women's game's global showpiece will wait a long time to see Lilly's like again.