Malaysia began their preparations for next month's Asian Cup with a 6-0 victory over Cambodia on Monday.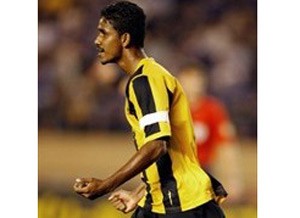 Malaysian captain S.Subramaniam reacts after scoring against Japan during the 2008 Olympic Asian qualifier
Though Cambodia are 20 places below Malaysia at 169 in the FIFA/Coca-Cola world ranking, the home side were after a confidence-boost ahead of friendly fixtures against a much stronger United Arab Emirates on Thursday and Jamaica on 28 June.
Former national captain Rosdi Talib celebrated his return to the team after a three-year absence by opening the scoring in the 23rd minute with a 30-yard strike.
The home side missed several chances to increase their advantage and had to wait until soon after the break for their second goal, with Mohd Ivan Yusoff scoring from close range.
Hairuddin Omar made it 3-0 in the 58th minute before Eddy Helmi added two more. Aidil Zafuan finished off the Cambodians with a goal in the final seconds.
"It is important that we get off on the right note in the first game of the final phase -- now we have to be better in the second match (against UAE)," Malaysia head coach Norizan Bakar told journalists.
Malaysia face China, Iran and Uzbekistan in Group C of the Asian Cup from 7-29 July. They are co-hosting the tournament with Indonesia, Thailand and Vietnam.