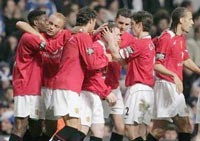 Manchester United wins the League Cup
It is the first major final of Wigan, but their dream of the League Cup was shattered by Manchester United. They lost 0-4 at Old Trafford on December 14, 2006.
Manchester United started the match with two strikers, Rooney and Saha (Nistelrooy was dropped to the bench) and they scored three of four goals (Rooney scored twice). Ronaldo scored the last one.
The other premier League results: Liverpool – Manchester City 1-0, Bolton-Fullham 2-1, West Brom-Middlesbrough 0-2.
Serie A: Inter-Udinese 3-1, Juventus-Lecce 3-1, Ascoli-Messina 1-0, Siena-Sampdoria 1-0, Empoli-Treviso 1-1, Cagliari-Chievo 2-2, Palermo-AC Milan 0-2.