Argentinian legend Diego Maradona admitted he was in awe of Brazil after Argentina's great rivals won the Copa America Venezuela 2007 without Kaka and Ronaldinho.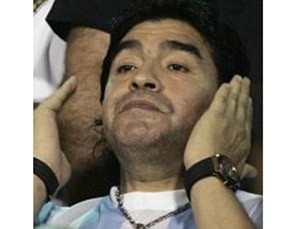 Diego Maradona watches as Argentina play the USA
Maradona also said Brazil's 3-0 win over Argentina in the continental decider two weeks ago - their third successive three-goal win over Argentina - was so comprehensive that he did not even cry.
"They didn't take all their monsters to Venezuela," said Maradona in an interview with the sports daily Ole. "So, the question is what will happen when they play to their full potential. What is going to happen when the real Brazil play?
"I'm not just speaking for Argentina either, I'm speaking for Germany, Italy, Spain..."
He added: "I didn't cry this time. Brazil beat us so well that there was no time for sobbing. Robinho, their best player, didn't touch the ball and they still beat us 3-0.
"They scored at the start, but after that there were 86 minutes to do something and we didn't do anything."