MARSEILLE, France, Nov 3, 2009 (AFP) - Marseille made the most of early fortune before romping to a 6-1 win over FC Zurich here on Tuesday that add hope to the French side's dreams of qualifying from Champions League group stages.
Marseille started the match without injured Argentine international playmaker Lucho Gonzalez, prompting Didier Deschamps into a shake up that saw Hilton replace Taye Taiwo at left back and Baky Kone join Brandao and Mamadou Niang in a three-pronged attack.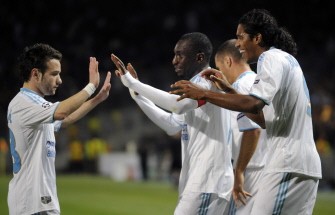 Marseille forwards Brandao (R) and Mamadou Niang (C), who scored, celebrate with Mathieu Valbuena (L) during the European Champions League, Group C football match Marseille-Zurich on November 3, 2009 at Velodrome stadium in Marseille, southern France. AFP photo
That decision paid off handsomely, with Niang, Hilton and Brandao adding their names to a scoresheet that was loaded with goals in the latter stages.
However Marseille's eventual dominance of their fourth encounter in Group C, with their final two games against Real Madrid and AC Milan still to come, was initially not all their own doing.
Marseille started with punch but when the opening goal came on three minutes the head of Zurich midfielder Silvan Aegerter turned the ball past Johnny Leoni in the visitors' net.
Marseille continued to dominate the early stages and, again, another free kick from the left led to their second goal.
This time a more cohesive Zurich defence held their line firmly as Niang, Brandao and Kone all pushed towards goal.
But all three players appeared blatantly off-side when Fabrice Abriel's free kick rose then dipped dangerously close to the Zurich net before beating the Zurich 'keeper.
Marseille had two chances to pull further ahead, the first when Bruno Cheyrou's angled shot, after some nice play by Abriel then Niang, was shot straight at Leoni.
On 25 minutes Brandao, unmarked barely 10 yards from the goal, then fired a first-time effort over the crossbar after Niang had provided the pass after pouncing on a poor clearance by the Zurich defence.
When Zurich reduced the deficit six minutes later it came without any external assistance.
Frenchman Alexandre Alphonse picked up a pass just outside the area, turned and held off defenders Stephane Mbia and Gabriel Heinze to beat Steve Mandanda with a great left-foot drive.
His goal had Deschamps up out of his seat, and gave the visitors a much needed zest that, for the remainder of the first half, had Marseille at sixes and sevens and edged them closer to scoring the equaliser.
Despite brief flashes of attacking play from Zurich, the second half seemed to be all about Marseille showing their first half advantage was no fluke.
A Heinze drive that flew just over the far top corner signalled their intentions early on, and soon the hosts were 3-1 up after Kone returned Niang's pass and watched the Marseille striker pounce to beat Leoni from close range on 52 minutes.
Zurich had a convincing claim for a penalty waved away in the 65th minute, and their misfortune was compounded in the 80th minute when Hilton drove home their fourth goal after a loose ball fell to his feet inside the area.
Seven minutes later Cheyrou carried the ball from the right flank before unleashing a superb drive that had Leoni flapping at thin air and left the ball in the net.
At the death Brandao took their tally to six after latching on to a solid cross-goal Niang pass to beat Leoni from a yard out.