Mexico claimed a stunning 2-0 win over defending champions Brazil at the 2007 Copa America championship on Wednesday.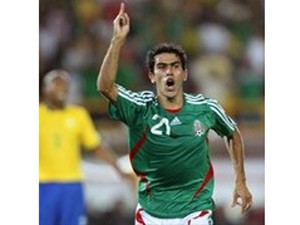 Mexican Nery Castillo celebrates after scoring goal against Brazil
Nery Castillo scored at the 24th minute before Ramon Morales made it 2-0 just five minutes later for underdog Mexico.
In the other Group B match Wednesday, Chile rallied with two late goals to beat Ecuador 3-2.
Morales scored off a free kick and Castillo beat a defender before hitting the mark against a depleted Brazil squad which was missing some key players.
Brazil had chances to score in the second half but Robinho's drive sailed off the crossbar.
For Chile, substitute Carlos Villanueva was the key man, stepping off the bench with 20 minutes remaining to set up one goal before scoring himself to clinch the victory.
Ecuador had dominated their game and had deservedly broken the deadlock through Antonio Valencia, who collected a pass from Carlos Tenorio before firing home.
In the 19th minute, Colo Colo striker Humberto Suazo equalized with a superb effort from distance,
but Ecuador were soon back in front when Cristian Benitez took advantage of an error by Chilean goalkeeper Claudio Bravo to make it 2-1 in the 22nd minute.
Luis Fernando Suarez's side continued to dominate and had chances to further extend their lead but failed to convert any of them.
On Sunday, Chile will face Brazil while Ecuador will face Mexico.