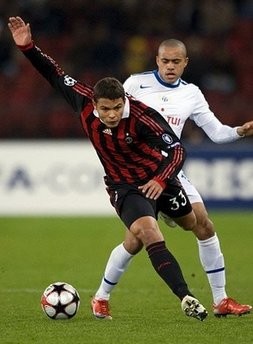 Zurich's striker Alexandre Alphonse (L) fights for the ball with AC Milan's defender Thiago Silva during their UEFA Champions League match in Zurich (AFP photo)
ZURICH (AFP) – AC Milan did the minimum on Tuesday to secure their Champions League fortunes, coming from a goal down to secure a 1-1 draw as Swiss minnows Zurich almost repeated their first leg slaying of the Italians.
With Zurich out of the Champion's League, the Letzigrund was looking for a consolation repeat of the shock 0-1 win over Milan at the San Siro in their first leg more than two months ago.
And they almost got it for more than half of the game as Milan's stars swiftly ran out of pace and inspiration up front while Zurich found the Achilles heel in the Italian back four.
Milan coach Leonardo admitted afterwards that the Swiss had virtually outplayed them in the first half, while his beleaguered eleven were tense with memories of their earlier setback.
"We were playing against a team that no longer had any expectations... that had won at San Siro," he explained.
"It was also a question of tactics," Leonardo added, betraying his surprise at seeing Zurich press deep in his side's half.
"But I just don't want to underestimate the fact that we qualified."
The Swiss could have gone four up in the first 45 minutes as Milan's experienced central defence inexplicably parted three times on the edge of the penalty area.
Dida saved Milan twice, parrying from Silvan Aegereter in the 10th minute and at stretch from Okonkwo in the 36th minute, while Alphonse shot wildly over the bar with only the goalkeeper to beat.
But the Brazilian's luck ran out on the half hour, when Milan Gajic bent a freekick low around the wall to put the Swiss on the road to a new upset.
"Milan was maybe good for us, because their tempo was not so fast and we had space. Gajic can thrive on that," said Zurich coach Bernard Challandes.
Swiss keeper Johnny Leoni used his legs to keep Pato's volley out seven minutes into the game.
But the next 35 minutes were largely downhill for Milan, as an ineffectual Ronaldinho was condemned to solitary confinement on the right wing, while striker Marco Borriello was stifled and Pirlo's pivotal playmaking seemed predictable.
Zurich's hopes were ultimately dashed after Leonardo brought a dab of colour to his side by bringing on former Arsenal midfielder Matthieu Flamini ten minutes into the second half to replace the diminished Ambrosini.
After finally troubling the Zurich defence by making it into the penalty area, Ronaldinho scored from the penalty spot eight minutes later after Borriello was brought down and Zurich defender Alain Rochat was sent off.
"It's true that maybe there was less pressure," Leonardo admitted, when asked why his side didn't score again.
"Zurich then massed at the back. There were almost nine of them behind the ball," he insisted.
For Milan the 1-1 scoreline secured a 25 goal unbeaten run since their last defeat, against Zurich at the San Siro on September 30.
Meanwhile, Zurich bowed out with just a couple of decent results in their campaign - a shock victory and an almost upsetting draw against Milan.
"We wanted to give a good impression of ourselves and of Swiss football. We can be happy with this performance in the Champions League," said Challandes.