McLaren insists Lewis Hamilton is free to race for the world title even though they imposed team orders to stop him fighting for victory in Monaco.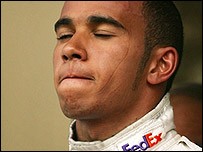 On the podium, Hamilton reflects on what might have been
Fernando Alonso led Hamilton to a one-two and team boss Ron Dennis said he had prevented his drivers from racing after their first pit stops.
"We will never favour one driver over another; we never have," Dennis said.
But Dennis admitted he "virtually had to decide in advance" which one of the drivers would win in Monaco.
Hamilton said: "It is something I have to live with. I've number two on my car and I am the number two driver."
Dennis said Alonso was "on a radically different strategy" from Hamilton to cover for the potential deployment of the safety car, which has happened in four of the last five races at Monaco following an accident.
He added that had the safety car intervened, Hamilton would have won.
McLaren were able to control the race from the pits because they had a huge advantage over their nearest rival, Ferrari, whose driver Felipe Massa was more than a minute behind in third place.
But that will not prevent claims that the team intervened to prevent Hamilton taking his maiden victory.
"I'm sure everybody feels - and a lot of people will feel it in England - that there is favouritism or some penalisation that is given to either Lewis or Fernando," Dennis said.
"We are scrupulously fair at all times in how we run this Grand Prix team.
"This circuit has to be addressed in a team way, and that is why we have won 14 races here.
"I don't like to slow drivers down, to be frustrated or see these things happen.
"But because I am an absolute racer, it is the way you have to win the Monaco Grand Prix, which is what we have done."
Alonso and Hamilton are now level on 38 points at the head of the championship, which the Spaniard leads by virtue of his two wins.
"Lewis has an equal opportunity to win the world championship," said Dennis.
"I have been monstrously criticised in the past for not favouring a driver and frittering away the opportunity of a world title.
"But we will never favour one driver over another, no matter who it is. We never have and we never will.
"There will be places where they will be free to race, but this is not one of them because one driver pushing another will induce a mistake, and then you've a car out.
"Everybody would then say 'what an idiot the team principal of McLaren is for allowing his cars to compete to a level where one of them is in the barrier'.
"It's not the right way to go."
Hamilton had qualified second with a heavier fuel load than Alonso, and it appears that they continued to race each other despite being told to back off by the team.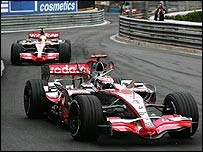 Alonso and Hamilton were prevented from racing in Monaco
McLaren subsequently controlled when their drivers made their stops.
Hamilton said: "I caught him up, but it's extremely difficult to overtake here in Monaco, and he was obviously on a similar pace to me.
"I was told to take it easy, so there was no point pressuring him into a mistake, and then if he had made a mistake to crash into him, so it was best to finish one-two.
"To be honest I pushed as much as I could to the end. I didn't give up, so I didn't really take too much notice and kept going.
"But at the end of the day I'm a rookie, and finishing second in what is my first Monaco Grand Prix, I really can't complain.
"Coming into the season I expected to be number two driver. I'm a rookie, it's my first season, and I'm just pleased to be here.
"I'm still living the dream. I've been on the podium in my first five Grands Prix, and I hope to continue with that."