Rafael Nadal edged arch-rival Roger Federer in a thrilling decider in the "battle of the surfaces" in Mallorca.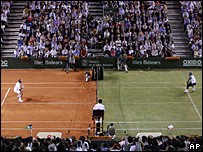 Federer and Nadal have a fierce rivalry
The world's top two players slugged it out in an exhibition match on a half-clay, half-grass court before the Spaniard prevailed 7-5 4-6 7-6 (12-10).
Nadal broke Federer on both grass and clay to take the opening set before the Swiss broke on clay to level the match.
The players traded breaks in the third set before clay king Nadal edged out the grass master in a tie-break.
Federer, Wimbledon champion for the last four years, has won 48 consecutive matches on grass, while double French Open champion Nadal has won 72 straight matches on clay.
The organisers of the event had to lay a brand new surface on the grass side of the court on Tuesday night after the original turf had failed to cope with the indoor location and then fell victim to a plague of worms.
Changeovers were extended to two minutes instead of the usual 90 seconds to give players a chance to change their footwear for each surface.