Czech winger Pavel Nedved will stay with Juventus next season after agreement was finally reached on a new contract, the Serie A club said on Wednesday.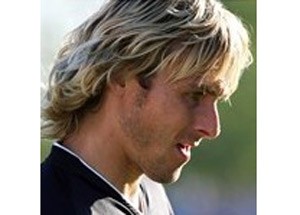 Czech winger Pavel Nedved will stay with Juventus next season
The former European Player of the Year had hinted he could retire if there was no agreement and Italian media said there was initially a gap of 800,000 euros ($1.1 million) between what the 34-year-old wanted and the club were willing to offer.
However, Nedved will now extend his six-year stay in Turin for at least another season, with midfielder Mauro Camoranesi also committing his future to the club.
"Pavel is happy. We finally came to an agreement with him calmly," Juventus Chief Executive Jean Claude Blanc told a news conference at the club's Vinovo training ground outside Turin.
"The agreement is confidential. It was only about money. We have another great flag-bearer of Juventus staying with us."
Blanc also confirmed that Portugal defender Jorge Andrade, 29, had arrived from Deportivo de La Coruna.
Former centre back Fabio Cannavaro, who left for Real Madrid at the start of last season after Juve were demoted to Serie B in Italy's match-fixing scandal, was never a real target because he is 33, Blanc added.
"We are very happy to have this agreement with Andrade," he said without giving details. "The choice we have taken is for the future not just one year."
Pepe, who is set to move to Real from Porto for 30 million euros, was also on Juve's wish-list as they rebuild the defence for their return to Serie A. But Blanc said Pepe and Real Zaragoza defender Gabriel Milito had become overpriced.
"It is not that Juve cannot pay the competitive prices of Real Madrid. We want to pay the prices that players are actually worth. The amount Real paid for Pepe was very high."
Juventus have brought in a raft of players for their bid to at least make a Champions League place next season. Italy striker Vincenzo Iaquinta was a key addition from Udinese and Blanc said the club needed to keep an Italian base.
"Juventus is a little bit of Italy," he said. "It has an Italian spine and forms part of the DNA of Italy. We don't want to go the route of Arsenal where they are all foreigners or Inter who have lots of foreigners."