This year, the French Open known as Roland Garros faces the first reform in its history in performing what is called the women's equality to men.
As of this year, the Organizing Committee of Roland Garros, the French Tennis Federation (FIT),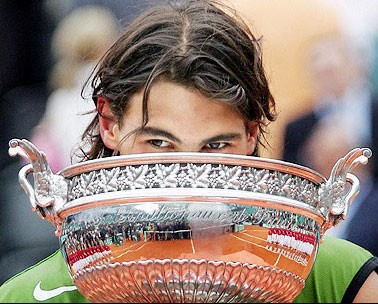 Rafael Nadal and 2005 Roland Garros champion trophy
will apply the new awarding policy to the up coming Roland Garros, taking place from May 29 to June 11 in Paris.
As usual, the Roland Garros champion earns 1.3 million dollars for Men's Single champion title, which is not the same as the Women's Single champion title. However, the new awarding policy will bring equal opportunity to women players. They will earn the same amount of money as men player for the champion title in this year's Roland Garros.
Stephane Simean, the FIT official in charge of awarding policies, said, "We should come up with the new trend of the tennis development around the World. Women players have got considerable progress recently."
Rafael Nadal serving at 2005 Roland Garros
Roland Garros is as a matter of fact following awading policies of other elite tournaments like "Australia Open" and " US Open" in making women equal to men in prize money.
This new policy has won active feedback from World Tennis Association (WTA) officials.
However, the new policy will be applied only to Single events. In other events, women's equality to men in prize money is still some way off.