WELLINGTON, Nov 15, 2009 (AFP) - The New Zealand men's hockey team capped a successful weekend for the South Pacific nation on Sunday when they joined their football counterparts as World Cup qualifiers.
New Zealand booked their ticket to February's hockey World Cup tournament in India when they came from behind to beat Malaysia 2-1 in the final of the qualifying tournament in the southern city of Invercargill.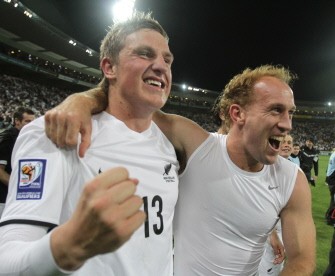 New Zealand's Chris Wood and Simon Elliott (R) celebrate their victory over Bahrain at the end of their football 2010 World Cup qualifying match in Wellington on November 14, 2009. (AFP photo)
While New Zealand's 1-0 football win over Bahrain on Saturday to qualify for the World Cup in South Africa was considered a surprise result, the hockey team were expected to qualify without difficulty.
But Malaysia did not follow the script and took a 1-0 lead in the 18th minute of the final when Razie Abd Rahim found the net from a penalty corner.
It was the first time in the tournament New Zealand had trailed and it took until late in the second half before they were able to draw level and then take the lead.
The tournament's top scorer Andy Hayward provided both goals with drag flicks from penalty corners, the first in the 57th minute and again three minutes later.
New Zealand coach Shane McLeod said his squad had watched and been inspired by the football win.
"All sports get motivated by the success of others, I think it assisted us with our campaign," he said.