Manchester United manager Sir Alex Ferguson revealed on Monday that midfield dynamo Park Ji-Sung will be out of action until January.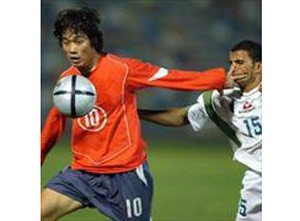 Park Ji-Sung (right) is congratulated by teammates after hitting Manchester United's opening goal against Charton Athletic
The South Korean star injured his right knee in a Premier League match against Blackburn Rovers on April 1 and has not played since.
He was operated on in late April by knee specialist Richard Steadman, who helped save the careers of Alan Shearer and Michael Owen.
"We miss Park. He will be out until January," Ferguson told reporters after his side arrived in Tokyo for a four-match Asian tour, which includes a game against FC Seoul.
Park had been recuperating in Korea but went to England on 3 July.
Ferguson said he would return to be with the team when they play Seoul on Friday.
"He will be in Korea because he is so popular and it is important that he is with the team," said the Scot.
Park signed with United from Dutch side PSV Eindhoven in 2005 after helping his national team reach the semi-finals of the 2002 FIFA World Cup.