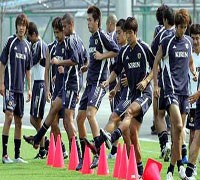 Football players of Thailand
Thailand
's Prachya Permpanich has been selected by FIFA to officiate as linesman at the World Cup finals in Germany next month.
The world governing body has announced the list of referees and assistant referees that will take part, and Prachya's name was among them.
Six people were chosen from five nations in the Asian, with two being selected as referees and four as assistant referees.
Football Association of Thailand secretary general Mr Worawi Makudi said Prachya would be kept company by an official from Singapore. "Prachya will be the same group with Singaporean referee Shamsul Maidin," said Worawi.
"He will also be on duty with another linesman during each match he participates in during the finals."
There was a final workshop test on April 18-21 in Germany followed by a selection of linesmen from 82 hopefuls.
Sixty of them will take part in the World Cup finals, including Prachya.
Prachya became the second referee from Thailand to have chance to do duty in the World Cup finals after Pirom Unprasert was the first referee to be selected for the 1998 World Cup finals in France eight years ago.