Spanish champions Real Madrid appointed former German international Bernd Schuster as their new coach on Monday.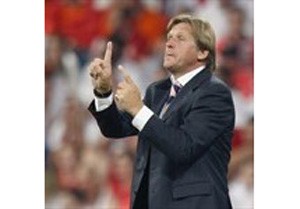 Bernd Schuster
The 47-year-old, who has coached Getafe for the last two seasons, replaces Fabio Capello, who was sacked at the end of June after leading the club to their first league title in four years.
Real said they would present the German to the media at a news conference at the Bernabeu at 11.15 GMT.
Schuster, who has coached Primera Liga side Getafe for the last two seasons, is the eighth occupant of the Real Madrid bench in a little over four years.
The German has been set the task of emulating Capello's success but at the same time ensuring that the team plays the sort of crowd-pleasing, attacking football demanded by the club and its fans.
The former Real, Atletico and Barcelona midfielder was reported to have bought himself out of his contract with Getafe by paying a compensation fee of 480,000 euros thus allowing him to make the switch to the nine times European champions.
Schuster steered the modest Madrid-based side to consecutive ninth-placed finishes in the Primera Liga and to a first ever final of the Copa del Rey, where they lost 1-0 to Sevilla.
Getafe caused the upset of the season when they came back from a 5-2 first-leg loss against Barcelona in the semi-finals of the Cup to inflict a humiliating 4-0 defeat on the Catalans in the return.
Prior to the Getafe job, Schuster had a brief spell in charge of Levante.
The team got off to a flying start, but faded badly in the second half of the season and Schuster was fired four games from the end of the campaign that ended with relegation.
His only other top-flight experience came with Ukraine side Shakhtar Donetsk between 2003-04.
Once again his team got off to a god start but they hit problems towards the end of the season and he was fired when they fell behind arch-rivals Dynamo Kiev.
A confident and outspoken figure, Schuster had a series of high-profile arguments with several of his clubs as a player, sitting out a season while at Barcelona because of a legal dispute and being barred from playing while at Bayer Leverkusen.
He has made no secret of his desire to take charge at Real and has been linked with the job since midway through last season.