ATHENS, Nov 19, 2009 (AFP) - Few believed that when Greece hired German coach Otto Rehhagel eight years ago to take them to the Euro 2004 competition that the team could return with the trophy.
And few had faith in the 71-year-old coach turning a 0-0 result at home Saturday with Ukraine in the World Cup 2010 qualification playoff match into a victory and sending the Greeks to only their second berth in a World Cup (they also qualified in 1994) on Wednesday in cold Donetsk.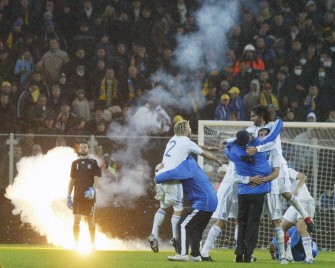 Greek national football team players celebrate after their World Cup 2010 play-off qualification football match against Ukraine on November 18, 2009 in Donetsk. Greece won the match 1-0. AFP
Yet "King Otto" as he is called here returned in the early hours of Thursday with his team in triumph.
He quietly left the airport without making any comments but stopped to sign some autographs to the few fans who came to see the team return.
Wednesday's 1-0 victory over favored Ukraine was Rehhagel's 100th match as coach of the Greek squad and was celebrated with a surprise birthday cake from his players onboard the charter plane bringing them back to Athens.
"He is a man with few words. He is very happy for making it to the World Cup and was very touched by the surprise from the team," said Greek Football Federation (EPO) president Sophocles Pilavios upon arriving with the players from Ukraine.
Rehhagel had been heavily criticized in the Greek press for keeping too many of his players from the successful Euro 2004 team and for inviting other players who were not getting playing time with their clubs.
And when the Greeks failed to qualify directly to the 2010 World Cup in what was considered an "easy" group" the critics were harsher.
"This team knows how to give answers when it receives criticism. On numerous occasions we have shown that in difficult times we have managed well," said Greek striker Angelos Charisteas.
He said he has lived great moments on the team, including winning Euro 2004, but that "this moment is the most significant in my career."
Charisteas continued: "As we played against Ukraine there was no way they would score a goal. I believe we showed the character that we know. We defended well without giving up a goal, we scored one goal and won the match."
Midfielder Kostas Katsouranis said that the criticism was beneficial to the team.
"Let there be criticism, but its best to think before talking. We had reached the point where they would kill us if we did not qualify," Katsouranis said.
He added that on the pitch Wednesday "we did exactly what we planned after the match in Athens, to score and to keep them from scoring. With some slight improvements, we are capable of something good in South Africa."
Midfielder Giorgos Karagounis said many people underestimated the team.
"We had heavy criticism which did us some good. But at the end we showed character. It was a big win and we dedicate it to all the Greeks," Karagounis said.
He added: "We never said we play super football, but we have accomplished a lot."