Barcelona's Portuguese international Deco, who has been linked to a move to the English Premiership, will be staying put at the Spanish club according to the Spanish giants' coach Frank Rijkaard.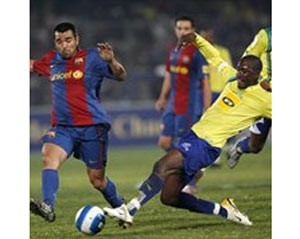 Barcelona's Deco avoids a tackle from Sundown's Benson Mhlonge
The Dutch tactician told the club's official website that he is "very pleased" with Deco, as is the player with the club, so his departure from Barcelona would be "difficult".
The 29-year-old midfiedler is under contract with Barcelona until 2010, but the media have suggested that his days at the Nou Camp are numbered after the club surrendered the Spanish La Liga title to arch-rivals Real Madrid last season.
Press reports in Britain and Spain have linked Deco to a move to Chelsea in exchange for Frank Lampard, with Newcastle United named as another possible destination.
Deco joined Barcelona after winning the UEFA Champions League with Portuguese side FC Porto in 2004 under coach Jose Mourinho, who now manages Chelsea.
His goals return for Barcelona fell from eight in his first season with the club to just one in 2006/07.