Robinho converted a second-half penalty, his fourth goal of the Copa America, to give Brazil a 1-0 win over Ecuador and a place in the quarter-finals on Wednesday. The penalty rescued Brazil, who again lacked creativity in midfield and sorely missed Kaka and Ronaldinho.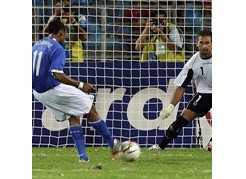 Brazil's Robinho shoots a penalty kick to score against Ecuador's goalie Marcelo Elizaga
Brazil finished second in Group B with six points from two games, one behind Mexico, who drew 0-0 with Chile in their final outing of the first phase. The result claimed the Chileans third place on four points, which was enough to send them into the last eight. Ecuador propped up the pool after three successive defeats.
Brazil coach Dunga started with Julio Baptista in an attacking midfield role, but surprisingly placed him alongside three stoppers: Gilberto Silva, Josue and Mineiro.
The result was another unconvincing first-half performance from the defending champions until they created three chances just before half-time. Robinho fired wide after a backheel from CSKA Moscow's Vagner Love, then Ecuador goalkeeper Marcelo Elizaga turned away a 20-metre shot from the Russia-based striker and a Julio Baptista header from close range.
At the other end, Edison Mendez forced Doni to turn his effort away for a corner, and Neicer Reasco's effort was deflected wide after he had rounded the Brazil goalkeeper.
Brazil, who were awarded a penalty against Chile, were given another spot-kick in the 55th minute when Robinho went down under a challenge from Giovanny Espinoza. Argentine referee Sergio Pezzotta first ordered Robinho to get up, then signalled a penalty. Robinho took it himself and scored with a low shot to the right, which Elizaga just failed to save.
Ecuador had two penalty appeals turned down as they pressed for an equaliser, the second earning Carlos Tenorio a yellow card for diving.
Draw suits both parties
Chile and Mexico were jeered off the pitch after a 0-0 draw on Wednesday, but made no apologies for their performances. The result suited both teams as Chile qualified for the second round.
"We didn't want to get caught in their trap and play the type of game they wanted," said Mexico coach Hugo Sanchez. "We wanted to win."
Mexico goalkeeper Guillermo Ochoa said the approach from both teams was understandable. "We were both playing for something," he said. "We have reached our target and finished top of the group and it was unlikely Chile were going to do much attacking in that situation."
Chile coach Nelson Acosta also defended his tactics. "We wanted to win the game but, of course, we took precautions as we didn't want to leave ourselves open to the counter-attack," he said.
"We qualified and that is what is important. Football depends a lot upon the moment. I don't think the Chilean fans would have been very happy if we'd lost 5-0 and got knocked out."