Roma completed the full signing of David Pizarro on Wednesday after the club bought Inter Milan's stake in the Chilean international.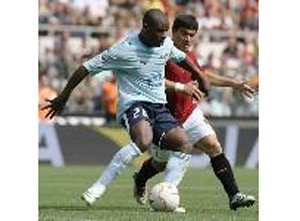 Lazio's Gaby Mudingayi holds off David Pizarro of Roma
Co-ownership deals for players are common practice in Italy, and both Serie A clubs had a share in the 27-year-old creative midfielder. Roma will pay Inter a further 5.7 million euros over a three-year period for full ownership of Pizarro.
Inter signed Pizarro from Udinese for the start of the 2005/06 season, but the Chilean failed to hold down a regular place in the team. Pizarro joined Roma last summer after the club agreed to pay Inter an estimated 6.5 million euros.
Pizarro was an influential figure in Roma's second-placed finish in Serie A last season and helped the club reach the quarter-finals of the UEFA Champions League.