LJUBLJANA, Nov 19, 2009 (AFP) - Minnows Slovenia will leave for the World Cup in South Africa with clean boots after Prime Minister Borut Pahor was forced to eat his words and get polishing following his country's play-off victory over Russia.
The Slovenians pulled off a 1-0 win over Russia on Wednesday and qualified on the away goals rule after the aggregate score of 2-2, playing an attacking gameplan that had commentators purring.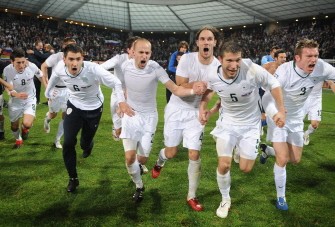 Slovenia's team celebrate after their World Cup 2010 qualifying play-off second leg football match between Slovenia and Russia, in Maribor (AFP photo)
"Irrespective of the shortfall in youth and experience the Slovenian national football team very quickly understood the legality of modern football at the highest level, and played aggressive soccer, which attracts viewers," said Slovenian daily newspaper Dnevnik.
"This is no longer a defensive posture waiting for the counterattack."
The newspaper's front page headlined with "To Africa with clean shoes", in reference to Prime Minister Pahor's promise to the team that he would polish their boots if they won.
Pahor dutifully carried out his task immediately after the game, the paper reported.
"Superb performance in (the Maribor stadium of) Ljudski vrt. South Africa, here we come," said Slovenian daily Delo.
Former international Branko Oblak, writing in Delo, said Russian coach Gus Hiddink had made the mistake of continuing to pick the wrong players, such as Arsenal's Andrei Arshavin.
"The Russians did not attack us at all. They sought to play with technique which they do not have."
Slovenia's sole sports daily Ekipa predicted that "next summer would be a Slovenian summer".
"Watch out Brazil, Spain and Argentina. South Africa, prepare, Slovenia is coming."