MANCHESTER, England, Nov 4, 2009 (AFP) - Sir Alex Ferguson revealed he had played Russian roulette to ensure Manchester United secured their passage into the last 16 of the Champions League.
Facing a surprise defeat with his team trailing 3-1 to CSKA Moscow at Old Trafford on Tuesday, the long-serving United manager sent on Wayne Rooney.
With a huge top-of-the-table game at Chelsea on Sunday, which will see United fall five points behind the current leaders if they lose, Ferguson wanted to rest the England striker.
In addition, Rooney had been excused from training on the eve of the game to be at the birth of his first child and had not had much sleep.
Although Paul Scholes and Antonio Valencia, with the aid of a huge deflection, were credited with inspiring United's fightback, Rooney played a key role in the team's recovery.
"He's not had much sleep to be honest with you," said Ferguson, after his side scored twice in the final four minutes to advance to the next phase with two group games to spare.
"But the third goal forced my hand really.
"He was a safety player for us in the sense that if we needed him he was there."
Ferguson praised his players for showing character but he could not hide his disappointment at the goals his team conceded.
All three were a result of poor defending, but Ferguson refused to use the absence of first-choice central defenders Rio Ferdinand and Wes Brown as an excuse.
And he warned that his players must improve ahead of the Chelsea match.
"The players were fantastic with the number of chances we made and their keeper made some fantastic saves," added Ferguson.
"We have lost three goals at home which we are never happy about. Their third goal just after half-time came as a surprise and gave them something to hold on to.
"It was unlike us.
"We will have a lot of set-pieces against us when we play Chelsea. It was a warning to us."
"But our intensity was fantastic in the final 20 minutes. We didn't want to send Wayne on that early but it was something we needed to do."
United, trailing 3-1 at the time, were denied a blatant penalty when Darren Fletcher was tripped by Aleksei Berezutski inside the CSKA penalty area.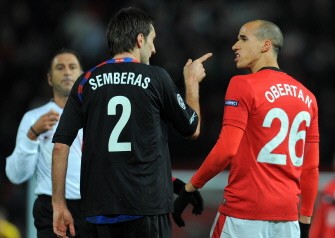 CSKA Moscow's Lithuanian defender Deividas Semberas (L) confronts Manchester United's French forward Gabriel Obertan (R) during their UEFA Champions League Group B football match at Old Trafford on November 3, 2009. The game finished 3-3. (AFP photo)
But instead of pointing to the spot, Portuguese referee Olegario Benquerenca booked Fletcher.
"I can't believe it. I watched the camera by the side of the dugout and I just can't believe it," added Ferguson.
"It is the worst I have ever seen in my lifetime - unbelievable. The number of chances we did create showed that there is something about Manchester United.
"You can't appeal a yellow card. I can understand in domestic football that it could get lost in the system but in European football it is crucial because, later in the tournament, to miss a really important game because of that is unfair.
"They (UEFA) should look at that but they won't. It is a really bad mistake. Okay, it's human error but it is still a bad mistake."
CSKA coach Leonid Slutski saluted his players despite their failure to hang on for a famous win which would have been the club's first in England and would have brought United's 22 match home unbeaten run in the competition to an end.
The Russian club still have a chance of joining United in the last 16 but will have to rely on German champions Wolfsburg slipping up.
"It's disappointing we didn't hold on but I am still very proud of my players," said Slutski, who replaced the sacked Juande Ramos only last week.