Saudi Arabia put out a stunning show to shatter Japan's dream of their third Asian Cup as they downed the defending champions 3 – 2 at Viet Nam's My Dinh Stadium on Wednesday night.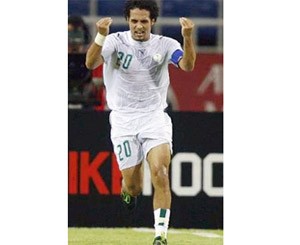 Saudi Arabia's skipper Yasser Al Qahtani celebrates his scoring against Japan
Malek Maaz scored the decisive goal in the 57th minute after the Saudis had twice squandered the lead.
Yuji Nakazawa cancelled out Yasser Al Qahtani's opener and Yuki Abe acrobatically put Japan level after his defensive lapse allowed Malek Maaz to regain the Gulf side's lead.
Japan and Saudi Arabia, both looking to win the competition for a fourth time, stuck with the same starting 11 that began their respective quarter-final victories over Australia and Uzbekistan and it was the defending champions who created the first chance of the match.
Shunsuke Nakamura combined with Yasuhito Endo at an eighth minute corner before swinging the ball into the six-yard area, but the cross was punched clear by Yaser Al Mosailem before it could reach the head of Yuji Nakazawa.
Saudi Arabia soon settled and in the 25th minute a shot from skipper Yasser Al Qahtani almost looped in after deflecting off the leg of defender Nakazawa.
The Saudis took the lead in the 35th minute when Taiseer Al Jassam nodded an Abdulrahman free-kick in to the path of Yasser, who played a crisp volley past goalkeeper Kawaguchi.
The Saudis' joy was dampened two minutes later when Nakazawa cut bravely into the penalty area to head home an Endo corner.
Just two minutes into the second half the Saudis went ahead when Ahmed Al Bahari's precise cross from the right left Malek Maaz unmarked by Nakazawa and Yuki Abe to nod one home.
But the defending champions did not wilt and they came back into the game in the 53rd minute when Seiichiro Maki headed back an Endo corner kick to Abe who followed through with a world-class scissors kick.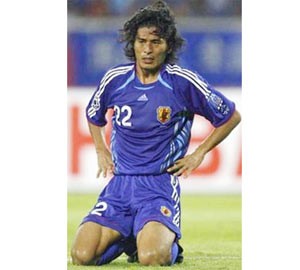 Japan's defender Yuji Nakazawa is devastated by his team's loss
The game turned dramatic when Saudi Arabia regained their lead four minutes later with Malek Maaz performing a superb move that fooled the Japanese duo inside the box before delicately lobbing past stopper Kawaguchi to net in.
A shocked Japan threw everything at the Saudis, and came within a lick of paint to drawing level with nine minutes left to go when substitute Naotake Hanyu blasted a thunderous long range strike, crashing off the crossbar.
The victory helped the Saudis avenge their 1-0 defeat to the Japanese in the 1992 and 2000 Asian Cup finals and set-up a showdown in Jakarta with Iraq.
Saudi Arabia: Al Mosailem, Hawsawi, Al Mousa, Jahdali (Tukar, 76'), Khariri (Al Ghamdi, 87'), Al Bahari, Aziz, Al Jassam, Abdulrahman (Al Mousa, 61'), Malek, Yasser.
Japan: Kawaguchi, Komano, Nakazawa, Abe, Kaji, Endo (Hanyu, 74'), Suzuki, Nakamura, Kengo (Yano, 88'), Maki (Sato, 85'), Takahara.