Saudi Arabia struck twice to see off Uzbekistan 2-1 in an absorbing quarterfinal at Indonesia's Gelora Bung Karno Stadium on Sunday night and set up a semifinal meeting with Japan in Ha Noi tomorrow.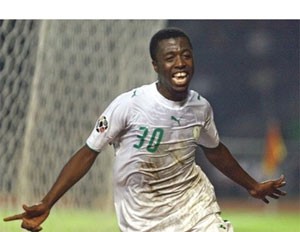 Saudi Arabia's Al Mousa celebrates his scoring against Uzbekistan
The Saudis went ahead just two minutes after kick-off when Yasser Al Qahtani fired home a loose ball after a mistake by goalkeeper Ignatiy Nesterov.
The pace became frantic after the early opening goal with many attacking spells by the Uzbeks, which Saudi Arabia countered by opting to play defensively and only make the occasional counter attack.
Uzbekistan almost snatched the equalizer in the fourth minute when Server Djeparov smashed the ball from the edge of the penalty area but goalkeeper Yasser Al Mosailem tipped it away for a corner.
Saudi Arabia replied seven minutes later when Saad Khariri headed Abdulrahman Al Qahtani's free kick towards goal, forcing a fine save from goalie Nesterov.
Uzbekistan skipper Maksim Shatskikh tried his luck from a distance 19 minutes into the game, only for Walid Abdrabh Jahdali to deflect the shot wide.
Saudi Arabia almost doubled the lead in the 31st minute when Yasser Al Qahtani, who had only keeper Nesterov to beat, fired off-target and Malek Maaz's header three minutes later was also just wide.
The Uzbeks continued to press for the equalizer after the restart with Ibragimov heading Djeparov's cross off the woodwork in the 49th minute. But as they became increasingly dangerous, the gaps started to appear at the back.
Taisser Al Jassam warned the Uzbeks' sloppy defense in the 68th minute when he broke the offside trap to face stopper Nesterov, but his shot was narrowly wide.
Saudi Arabia's second goal came two minutes later and it was Al Mousa, who finished in style after a fine one-two combination with Yasser Al Qahtani had left him one-on-one with keeper Nesterov.

The Uzbeks finally found the back of the net six minutes later when Hayrulla Karimov's header hit the crossbar and dropped back to Solomin, who made no mistake and tapped the ball home from close in.
The goal lifted Uzbekistan but all they could manage in the remaining time was a right-footer from Geynrikh that struck the frame of the goal.