PARIS, Nov 22, 2009 (AFP) - It is just as well football is the most popular and perhaps most lucrative sport in the world because the publicity it has had in the past fortnight could have killed lesser ones off.
The suicide of German national goalkeeper Robert Enke did not help the macho image of the game given that he had sought to hide his battle with depression fearful that it would harm his image in the sport.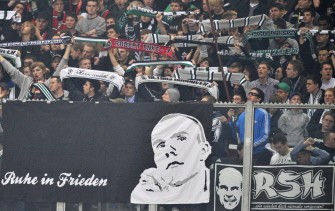 Hanover's supporters pay tribute to deceased German national goalkeeper Robert Enke before the German first division Bundesliga football match FC Schalke 04 vs Hanover 96 in the western German city of Gelsenkirchen on November 21, 2009. AFP PHOTO
Then there came the 'hand of frog' - Thierry Henry's blatant handball which effectively put France into the World Cup finals at the expense of the Republic of Ireland in Wednesday's play-off.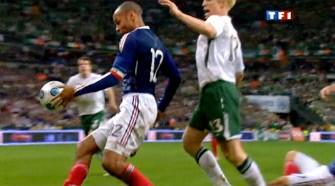 Thierry Henry's handball on Nov. 18 (AFP photo)
As if that was not bad enough allegations surfaced on Friday of widespread matchfixing from Germany to Bosnia-Hercegovina filtering down to even regional matches and Under-19 level.
Enke's suicide after years of battling depression was at least treated with great dignity - not least by his widow Teresa whose behaviour makes her definitely worthy of role model status - and decorum with a tribute at his club Hanover's stadium.
However, if any good can come out of such a tragedy it was highlighted by German Chancellor Angela Merkel who said that his death should serve as a means of making German society a more transparent and caring one.
"We must send a clear signal," Merkel told German weekly newspaper Die Zeit.
"We can help to change the social climate so that taboos like depression, and also issues like homosexuality, are no longer impossible to discuss.
"If someone is affected by either issue, they should be able to talk about it in peace," she added.
Whether Henry, one of the formerly more respected players in a sport not exactly awash with role models, can rebuild his reputation is a moot point.
Even the Barcelona forward's calls for the match with the Irish to be replayed fell on deaf ears as FIFA had already ruled that possibility out before he issued his statement.
Henry is caught in the eye of the storm after his handball gave William Gallas the chance to score the goal which took the 1998 champions through, leaving the Irish distraught and the former Arsenal striker sheepish as he admitted his misdemeanour.
"Of course the fairest solution would be to replay the game but it is not in my control," the France captain said.
"Naturally I feel embarrassed at the way that we won and feel extremely sorry for the Irish who definitely deserve to be in South Africa."
"The ball bounced and it hit my hand," added Henry, though he insisted that "I am not a cheat."
The circumstances, while not as blatant as Diego Maradona's slam dunk past England keeper Peter Shilton in the 1986 finals, may now sadly prove the abiding memory of a player who has worn French blue for 12 years, won the Champions League with Barca and lit up the English Premiership with Arsenal.
Certainly that is the opinion of the never bashful Erci Cantona, who suffered his won World Cup heartbreak in the final qualifier for the 1994 edition when Bulgaria scored in the final minute.
"What shocked me most was that at the end of the match, in front of the television cameras, this player (Henry) went and sat down next to an Irish player to console him, even though he'd screwed them three minutes earlier.
"If I'd been Irish, he wouldn't have lasted three seconds."
So if there is any good to come out of this dark episode then calls for video replays to be introduced - like they are used in tennis and rugby union - have reached a cacophony which is so loud that even UEFA supremo Michel Platini's implacable opposition to such a measure might wilt.