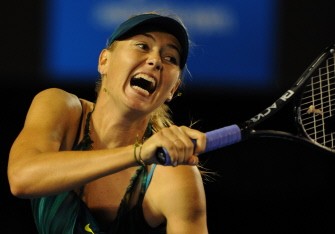 Maria Sharapova plays a return stroke during her women's singles match against Maria Kirilenko on the first day of play at the Australian Open in Melbourne on January 18, 2010 (AFP photo)
MELBOURNE, Jan 18, 2010 (AFP) - Former champion Maria Sharapova became the first major casualty of the Australian Open when she lost a three-and-a-half hour epic to fellow Russian Maria Kirilenko on Monday.
A downcast Sharapova offered no excuses for the 7-6 (7/4), 3-6, 6-4 first round loss, saying she had her chances but could not take them.
The two 22-year-olds slugged it out for three desperately close sets before a Sharapova forehand sailed wide, giving Kirilenko the first upset of the tournament and her second win against the former world number one.
"I certainly had my chances and just didn't execute," Sharapova said.
"You know, I felt like I was -- when she was up and then I'd get back there, back in the game, I just didn't take advantage of that and I let her control the situation again.
"(My game) was just up and down in many areas, and it just finished at the down level."
Sharapova, who spent almost a year out of the game in 2008-09 following surgery for a shoulder injury, looked rusty at the start, with many of her groundstrokes either hitting the net or spraying long or wide, often both.
The 2008 champion elected not to play a competitive lead-up tournament, instead choosing exhibitions in Hong Kong and Thailand and her lack of serious match practice was evident.
Both women started nervously, dropping their opening serves following a string of unforced errors.
Sharapova recovered first and took control, but Kirilenko soon found her range and came back into the match, taking the first set in a tiebreak.
Sharapova came out firing in the second, attacking more, serving better and reducing her error rate.
She broke Kirilenko to lead 3-1 and held the advantage in a tightly contested second set, leveling the match at one-set apiece.
But the effort appeared to take its toll and a tired looking Sharapova lost her opening serve in the third set as Kirilenko eased to a 3-0 lead.
Sharapova refused to concede and when a nervous Kirilenko served for the match at 5-3, she pounced and broke back to put the set back on serve.
But the respite was only fleeting as Kirilenko brought up two match points on Sharapova's serve.
While she saved the first, she couldn't save the second and Kirilenko was through.
Kirilenko said she knew she was in with a great chance of causing an upset midway through the second set.
"In the first set I was a little bit late -- she was playing so aggressive, and I kind of made a defensive play," the world number 58 said.
"And then I started to feel much better in the second set actually.
"I started to feel that I can be aggressive, as well. I hit more winners than in first set.
"And from that point, I started to feel that, yeah, I'm playing good from the baseline and I can beat her."
Sharapova refused to blame her shoulder injury for the loss.
"It's the first tournament of the year and I just came up against somebody that just played really good tennis," she said.
"That's just the way it goes. I mean, I could be disappointed or I could just take it as it is and just go back on the court and just keep working.
"I choose option two."