PARIS, Nov 14, 2009 (AFP) - Unheralded Slovenia and Ukraine took tentative steps closer to the 2010 World Cup finals on Saturday.
Despite losing 2-1 to Russia in Moscow, Nejc Pecnik's goal two minutes from time gave Slovenia hope that they can make sure of a second World Cup appearance in Wednesday's return leg of their qualifying play-off.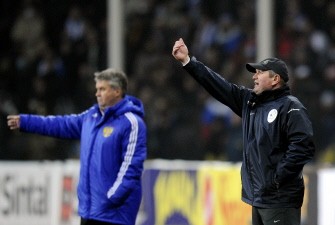 Slovenia's coach Matjaz Kek (R) reacts during their Russia vs Slovenia football World Cup 2010 first leg play-off match in Moscow on November 14, 2009 . Russia won 2-1. AFP PHOTO
Ukraine, who were quarter-finalists in 2006, will also be confident of achieving back-to-back World Cup spots, after holding 2004 European champions Greece to a 0-0 draw in Athens.
Later Saturday, Ireland were taking on 1998 champions, and 2006 runners-up, France in Dublin in the first leg of their play-off, while Portugal, playing without Cristiano Ronaldo, were entertaining Bosnia-Herzegovina in Lisbon.
In Moscow, Everton midfielder Diniyar Bilyaletdinov scored twice for Guus Hiddink's Russian side before Pecnik's late lifeline.
"It's always disappointing when you allow your rivals to score a goal at the very end but we can only blame only ourselves for it," said Hiddink.
"We had plenty of chances to increase our lead but missed them, while Slovenia converted one of their rare chances into a goal. But I believe we will score in the away match and clinch a place in the World Cup finals."
Bilyaletdinov opened the scoring in the 40th minute after being set-up by Tottenham striker Roman Pavlyuchenko on the edge of the box.
Spurred on by a capacity 70,000 home crowd, Bilyaletdinov made it 2-0 in the 51st minute, scoring from eight metres after Andrei Arshavin's short cross.
But Russia, under the watchful gaze of Prime Minister Vladimir Putin, were stunned in the 88th minute when Pecnik headed home after goalkeeper Igor Akinfeyev could only parry Robert Koren's powerful shot.
Slovenia coach Matjaz Kek said he was disappointed with the result but added his team still had a great chances to qualify for the finals.
"I'm unhappy with the result but it's better to be wounded than dead," Kek said.
"This defeat leaves us chances to qualify for the finals. The last minutes tonight proved we still have spirit to win. I'm confident that at home we will have luck on our side."
Greece and Ukraine played out a 0-0 stalemate at Athens Olympic Stadium watched by 50,000 spectators with Greek striker Giorgos Samaras and Ukraine's Taras Mikhalik wasting second-half chances.
Greece coach Otto Rehhagel tried to take positives from the lacklustre match.
"When you can't win, the best result is not to let them score and this is what we did. The result also gives us chances in the second leg," he said.
Ukraine coach Alexei Mikhailichenko refused to accept that his team were favourites reach a second successive World Cup finals.
"The chances to qualify are equal for both teams. I don't know if we need to change our tactics. We will view the video of the match and then decide what needs to be done."