The moment is nearly upon us. The South American qualifying phase for the 2010 FIFA World Cup South Africa™ is about to begin and, after no CONMEBOL sides reached the last four at Germany 2006, this traditional hotbed of footballing talent has real point to prove. To ensure you are right up to speed ahead of 13 October's big kick-off, FIFA.com takes a look at the current situation of all those sides bidding for a place at the African showpiece.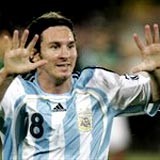 Argentina's Leonel Messi celebrates after a goal against Mexico
Argentina
: Under the guidance of experienced tactician Alfio Basile, the 2007 Copa America runners-up are aiming for their tenth consecutive appearance on world football's biggest stage. Following the retirement of Roberto Ayala, the burden of responsibility will be even greater on the likes of Barça forward Lionel Messi and enigmatic playmaker Juan Riquelme, still out of the picture at club side Villarreal. With a number of highly successful youth internationals pushing hard for a senior place, the Albiceleste are determined to rediscover the form they showed prior to defeat against Brazil in the final of Venezuela 2007. Up first on the agenda are a Chile team led by none other than Marcelo Bielsa, out of coaching since stepping down from the Argentina helm in September 2004.
FIFA/Coca Cola World Ranking
: 2
Last friendly result
: Australia 0 - 1 Argentina
Main men
: Juan Roman Riquelme (Villarreal, Spain), Lionel Messi (FC Barcelona, Spain), Javier Mascherano (Liverpool, England) and Carlos Tevez (Manchester United, England).
Absentees
: Roberto Ayala retired from international duty after the Copa America. Also missing from Basile's squad are Hernan Crespo, Pablo Aimar and Lucho Gonzalez.
Opening matches
: Chile (in Buenos Aires) and Venezuela (in Maracaibo).
Bolivia: Thirteen years on from their last appearance at the FIFA World Cup™ finals, Bolivia have put their faith in Erwin 'Platini' Sanchez, a Bolivian footballing legend and scorer of the Verdes' first-ever goal at the elite event, to revive their flagging fortunes. Results may have been poor at this year's Copa America, Bolivia exiting at the first-round stage, but hopes are high that Sanchez can turn things around and give the fans at the Estadio Hernando Siles in La Paz something to cheer.
FIFA/Coca Cola World Ranking: 90
Last friendly result: Peru 2 - 0 Bolivia
Main men: Joselito Vaca (Blooming), Juan Carlos Arce (Corinthians, Brazil), Ronald Raldes (Rosario Central, Argentina), Juan Manuel Pena (Villarreal, Spain).
Absentees: Darwin Pena, Edemir Rodriguez and Pedro Zabala have been subject to disciplinary action by the Bolivian Football Association and are currently unavailable for selection.
Opening matches: Uruguay (in Montevideo) and Colombia (in La Paz).
Brazil: For the ever-present Auriverdes, who hold the record for the number of FIFA World Cup titles, games won and goals scored at the showpiece competition, nothing less than a staggering sixth world crown will do. The reigning continental champions are aiming for a repeat of their Germany 2006 qualifying campaign, the Verdeamarelos topping the regional table with relative ease. Yet very few of the faces remain the same. Incoming coach Carlos Dunga, captain of the side that triumphed at USA 1994, has wrung the changes in a bid to instil the tactical discipline sometimes lacking from the world's most technically gifted footballers.
FIFA/Coca Cola World Ranking: 3
Last friendly result: Brazil 3 - 1 Mexico
Main men: Lucio (Bayern Munich, Germany), Juan (AS Roma, Italy), Ronaldinho (FC Barcelona, Spain), Kaka (AC Milan, Italy), Robinho (Real Madrid, Spain),
Absentees: Marauding full-backs Cafu and Roberto Carlos retired from Seleção duty after Germany 2006. AC Milan striker Ronaldo has yet to figure under the new regime.
Opening matches: Colombia (in Bogota) and Ecuador (in Rio de Janeiro).
Chile: Nine years after La Roja's last appearance at the highest level at France 1998, expectations are sky-high after the appointment of famed Argentinian tactician Marcelo Bielsa. El Loco takes the reins after previous incumbent Nelson Acosta was relieved of his duties in the wake of Chile's quarter-final humbling by Brazil at this summer's Copa America. The former Albiceleste supremo has quickly set about finding a blend of experienced internationals with the standout performers from a promising FIFA U-20 World Cup Canada 2007 showing. After the disappointment of recent qualifying campaigns, many experts feel that Bielsa's noted predilection for attacking football and a crop of exciting youngsters led by Villarreal starlet Matias Fernandez should see Chile firmly in the hunt for a spot in South Africa.
FIFA/Coca Cola World Ranking: 47
Last friendly result: Austria 0 - 2 Chile
Main men: Marcelo Salas (Universidad de Chile), Humberto Suazo (Monterrey, Mexico), Matias Fernandez (Villarreal, Spain) and Miguel Riffo (Colo Colo)
Absentees: Forward Alexis Sanchez will be out until the end of the year with an ankle injury. The National Professional Football Association (ANFP) have suspended Jorge Valdivia, Pablo Contreras, Jorge Vargas, Rodrigo Tello, Reinaldo Navia and Alvaro Ormeno for 20 games for a disciplinary issue.
Opening matches: Argentina (in Buenos Aires) and Peru (in Santiago).
Colombia: After a painful early exit at the group stage of the Copa America, Luis Pinto's charges have since gone an impressive five games unbeaten. That said, the level of expectation surrounding the Cafeteros remains obstinately low, in the perceived absence of worthy successors to the big-name stars that took Colombia to three FIFA World Cup finals during the 1990s. Their performances at home in Bogota could prove decisive in the final shake-up.
FIFA/Coca Cola World Ranking: 24
Last friendly result: Colombia 1 - 0 Paraguay
Main men: Ivan Cordoba (Inter Milan), Mario Yepes (PSG, France) Jaime Castrillon (Independiente Medellin), Radamel Falcao (River Plate, Argentina), Giovanni Hernandez (Colo Colo, Chile) Wason Renteria (RC Strasbourg, France).
Absentees: Juan Pablo Angel, Colombia's leading goal threat in recent qualifying campaigns, has lost his place in the Cafetero side.
Opening matches: Brazil (in Bogota) and Bolivia (in La Paz).