MANCHESTER, England, Dec 25, 2009 (AFP) - Unheralded Stoke City look to gatecrash Roberto Mancini's Manchester City party on Saturday with boss Tony Pulis hoping to strike a blow for fellow Welshman Mark Hughes.
Pulis said he was stunned by the treatment handed out to Hughes who was sacked as City manager last weekend despite taking them to within touching distance of the Champions League qualification.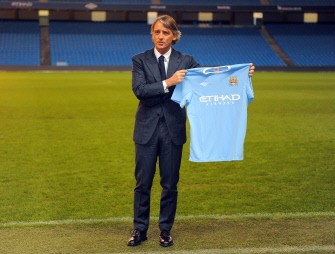 New Manchester City manager Roberto Mancini poses for photographers at the City of Manchester stadium in Manchester on December 21, 2009 (AFP photo)
Now he wants his mid-table team to catch big-spending City cold at Eastlands.
"I am disappointed because it's a British manager that has been sacked and disappointed because Mark was never given the time or the opportunity," said Pulis.
"There's no way in a million years you can have an effect on a club in a year, even with all the money Mark had to spend.
"But Manchester City are now operating on a different level and so they have to get used to the new pressures that come with that different level.
"They are now expected to win every week and that is a new pressure to live with.
"Conceding goals has been their big stumbling block this season and Mark must be desperately disappointed that he hasn't had the opportunity to get that right. But I am sure he will be back because he has proved himself to be a decent manager."
He added: "As for us, we cannot afford to get wrapped up in the circus that will be going on at City this weekend, and leading up to the game.
"It is never easy going to a club where the manager has just changed, you just don't know what you are going to be facing.
"There is bound to be some sort of reaction, good or bad, but you can toss a coin which way it will affect them.
"I am sure they will be fired up for it and if they start well, we could be in for a very difficult afternoon. But if they don't, then it could work in our favour."
Mancini, who honed his management skills in the red-hot atmosphere of the San Siro with Inter Milan, insists the City players are behind him despite claims of a dressing room revolt in the wake of Hughes' departure.
"I have a good relationship with the players. I appreciate some players are close to Mark but that is a good thing for a manager," said Mancini.
Mancini set a target of finishing in the top four when he was unveiled as City boss on Monday and he believes he can match his achievements at Inter in the long run.
He won three Serie A titles with the San Siro club, helping Inter replace AC as the city's dominant force. To do the same in Manchester would be quite an effort but Mancini is convinced it is possible.
"It depends (finishing in the top four) but I think so. It is important now we concentrate on Boxing Day's game at home to Stoke and then after that one game at a time," he said.
"I think I can do a job and my target, always, is to win. Inter Milan was a good job. I arrived there when they had not won in 18 years and after one year they won the cup and then after that the championship.
"I think I can do the same in Manchester but for this it is important that I work hard and I get to know the team fast."