Lionel Messi, Sergio Aguero and Cristiano Ronaldo may represent football's future, but there are players that they come up against each week who were already gracing the game before these prodigies were even born. Read on as FIFA.com pays tribute to the Methuselahs of the modern game - players who bring to bear decades of experience to make light of their advancing years.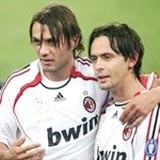 AC Milan's defender Paolo Maldini celebrates with temmate Filippo Inzaghi
What is the best advice you could give a talented young defender coming through the ranks at the San Siro and hoping to one day break into the AC Milan first team? The short answer is: change profession... That is essentially the message that has been delivered to aspiring Rossoneri defenders over the last 20 years. For two decades, Franco Baresi and Alessandro Costacurta came to symbolise eternal youth, as they lined up at the heart of the Milanese defence. And today, the ageless Paulo Maldini, 39 years young, is maintaining the tradition as he continues to put off his retirement, while adding to his medal collection.
These days, AC Milan, seven-times winners of the UEFA Champions League - Maldini's personal tally is five - resembles a gilded old people's home. The Rossoneri dressing room boasts one of the oldest average ages in the whole of Europe. Hot on Maldini's heels in the thirty-something club are Brazilian duo Cafu (37) and Serginho (36). Thirty-five-year-old Giuseppe Favalli is just behind, while Dida, Zeljko Kalac and Filippo Inzaghi form the chasing pack at 34. But forget the dates of birth and just admire the silverware collection. Last season, many pundits made the mistake of calling them "too old", only for the Rossoneri to deliver the perfect riposte on 23 May 2007 by lifting the Champions League trophy in Athens.
This Sunday, Milan head to Rome to face Lazio. The Italian capital is famed for its ancient monuments, and Carlo Ancelotti's men are set to face another one between the posts of the opposition goal. Marco Ballotta may not have enjoyed the successes of his AC Milan counterparts, but he boasts several feats that even the illustrious Maldini has not yet managed. Ballotta already holds the honorary title of Serie A's oldest ever player, having dislodged former Italy custodian Dino Zoff. On 18 September, when he lined up for Lazio against Olympiakos, Ballotta also became the oldest player to play in the Champions League. At 43 years and 168 days, the last line of the Lazio defence eclipsed the record set by the now retired Costacurta, who played his final European match at the relatively youthful age of 40 years and 211 days.
Something in the Italian air...
Given the plethora of veterans plying their trade in the land of the Azzurri, you would be forgiven for thinking the air in Italy contained rejuvenating properties. Alberto Fontana, who previously played in goal for Atalanta Bergamo, Napoli and Inter Milan, is, at 40, now the pride of Palermo. Meanwhile, his former captain, Eugenio Corini, three years his junior, left Sicily in the summer to join Torino after their promotion to Serie A.
Toro are likely to face a battle to stay in the top flight, along with Parma and Siena, both of whom narrowly avoided relegation last season. Parma's survival was aided by the efforts of Portuguese defender Fernando Couto, who, at 38, continues to defy the years by celebrating his goals with a trademark somersault routine. The goal celebrations over at Siena may be less spectacular, but they are more frequent, given that leading their attack is the ageless Enrico Chiesa, soon to turn 37, who now has over 130 Serie A goals to his name and shows no signs of slowing down.
The English climate may not be as clement as the Italian one, but it would appear to be just as conducive to promoting longevity among footballers aiming to prolong their careers. Teddy Sheringham might have stopped tormenting the defences of the Premier League last summer, but, at 41, he is still refusing to hang up his boots. These days, the former Nottingham Forest, Tottenham Hotspur and Manchester United forward can be found in the line-up at Championship outfit Colchester United, where he continues to find the net on a regular basis.
Meanwhile, two of his former strike partners at Manchester United, Dwight Yorke and Andy Cole (both 36), continue to shine in the English top flight. Both players were members of the Red Devils side that won the Champions League in 1999, and they have recently been reunited at Sunderland, where they find themselves in the unusual position of being older than their manager, Roy Keane, their former captain at Old Trafford.
Gary Speed's secret
At Blackburn Rovers meanwhile, Turkish midfielder Tugay Kerimoglu is another who is making a mockery of his passing years. At 37, the former international who racked up 94 caps for Turkey has no intention of calling time on his club career, and is keen to agree a contract extension that will keep him at the Lancashire club until he is almost 40. Down the road at Bolton Wanderers, Gary Speed is also fast approaching that landmark, yet the 38-year-old player-coach's desire for victory seems to increase with the number of candles on his birthday cake. "I think that if you work hard to achieve a goal, whether that is in football or in another profession, you will generally succeed," he told FIFA.com last April. "I had that principle instilled in me when I was very young, and I guess that's part of the reason why I am still playing now at my age. It doesn't matter if it's a match or training, I always give my all. Today, I'm reaping the benefits of all my hard work."
Maybe German duo Oliver Kahn and Michael Tarnat benefited from the same advice as youngsters. It is more than a decade since they lined up together for Bayern Munich, and at 38, they are both still going strong, with Kahn still at Bayern, and Tarnat now defending the colours of Hanover 96. Over at Bayer Leverkeusen, meanwhile, 36-year-old former Bosnia-Herzegovina captain Sergej Barbarez continues to shine. The former Hamburg and Borussia Dortmund star, who scored 17 goals in 49 appearances for his country, has decided to retire from the international scene, possibly with a view to eking out a few more years from his club career.
All of these veterans will need to keep looking over their shoulders, as there are a few youngsters out there ready to push them towards the exit. The likes of 'starlets' Ryan Giggs, Giuseppe Favalli, Lilian Thuram and Claude Makelele are not even 36 yet. FIFA.com is predicting that they all have many glorious days ahead of them...