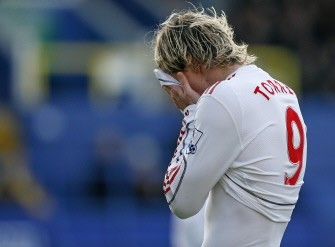 Liverpool's Spanish striker Fernando Torres shows his frustration during the English Premier League football match between Portsmouth and Liverpool in Portsmouth on December 19, 2009. AFP PHOTO
MADRID, Dec 20, 2009 (AFP) - Spain's status as one of the favourites to win the 2010 World Cup could end up hurting the squad's chances, Liverpool's Spanish international Fernando Torres said in an interview published Sunday.
"Everyone expects a great deal from us and that pressure is not always good for a player," the 25-year-old striker told XLSemanal, the weekly magazine supplement of daily Spanish newspaper ABC.
"We have good players who have played harmoniously for three or four years now. If we miss this chance to win the World Cup, it is possible that we will not have a second opportunity. The pressure is enormous," he added.
Spain, the winners of Euro 2008, are ranked number one in the year-end FIFA standings for the second straight year, making them the only side to ever occupy the top spot in the rankings without winning a World Cup.
Often accused of underperforming at an international level, their best placing remains fourth in 1950.
Spain would only appear in two more World Cups until 1978, but have qualified for every tournament since then.
They booked their place in the 2010 finals in South Africa between June 11 and July 11 with two matches to spare and went on to win all 10 qualifiers.
Spain are in Group H alongside Chile, Honduras and Switzerland.