THE DAY REPLAYED - Current holders Greece, Czech Republic and Romania qualified for the final phase of the UEFA EURO 2008 on Wednesday with two match-days left in the campaign.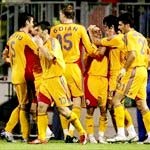 Romania's players jubilate after scoring a goal during their Euro 2008 qualifying match against Luxe (Photo: AFP)
These three countries join Germany, who qualified last Saturday, as well as the two host nations, Switzerland and Austria.
Match of the day
Russia 2-1 England
Goals: Roman Pavlyuchenko (69' pen., 72) for Russia, Wayne Rooney (29') forEngland
A real setback for England. Despite a wonder-strike from Wayne Rooney, set up by a header from Michael Owen, Steve McClaren's men were no match for Russia after the break, with Roman Pavlyuchenko making the difference. The match was a treat to watch for the neutrals, full of flowing football played out on a flawless artificial surface.
The surprise result
Georgia 2-0 Scotland
Goals: Levan Mchedlidze (16'), David Siradze (64')
At the start of the evening, Scotland sat atop Group B with six consecutive victories to their name, but it all went wrong as they fell to a 2-0 defeat in Tbilisi to a brave Georgia side which had lost seven of its ten matches thus far. In an ironic twist of fate, the opening goal was scored by 17-year-old Levan Mchedlidze, who plies his trade for Empoli in Italy - Scotland's main rival for qualification...
Player of the day
Roman Pavlyuchenko (Russia)
The Spartak Moskva striker came on in the 58 th minute and immediately turned the match on its ear, creating a number of chances before blasting home a penalty (69') and then netting a rebound which Paul Robinson parried into his path (72'). In the space of 14 minutes, Pavlyuchenko proved that it is no fluke that he is the current top-scorer in the Russian league with 13 goals.
The turning point...
Ioannis Amanatidis (Greece)
After a humiliating 4-1 defeat in the home match, Greece exacted their revenge away to Turkey with a 1-0 win. Experienced Eintracht Frankfurt striker Amanatidis was the man who secured a place in the final phase for the current European champions.
Lessons learnt
Czech Republic took advantage of a Germany side with nothing to play for (3-0), Greece reminded Turkey of who the current title-holders are and Romania continued their near-faultless campaign in Luxembourg (2-0), with all three qualifying for the UEFA EURO 2008.
The evening's big losers were Turkey who were beaten at home by rivals Greece, England who no longer have their fate in their own hands after losing in Russia (2-1), Scotland who finally cracked in Georgia (2-0) and Bulgaria who tripped up against Albania (0-1). Kyle Lafferty's 72nd minute equaliser against Sweden (1-1) means that Northern Ireland still have a glimmer of hope.
Finally, Les Bleus striker Thierry Henry bagged a late brace against Lithuania (2-0) and became the most prolific scorer in the history of French football with 43 goals, a mere four days after equalling Michel Platini's record.
Tonight's number - 8
Cristiano Ronaldo's goal versus Kazakhstan was his eighth in this qualifying campaign - representing over a third of Portugal's total of 23.
Ones to watch
Scotland-Italy (Group B), Norway-Turkey (Group C) and Spain-Sweden (Group F) will be the clashes to keep a particular eye on during the penultimate round of matches, to be played on 17 November.

Results in full
Group A
Kazakhstan 1-2 Portugal
Belgium 3-0 Armenia
Azerbaijan 1-6 Serbia
How they stand
1-. Poland 24 points
2-. Portugal 23 pts
3-. Finland and Serbia 20 pts
Group B
Ukraine 5-0 Faeroe Islands
France 2-0 Lithuania
Georgia 2-0 Scotland
How they stand
1-. France 25 pts
2-. Scotland 24 pts
3-. Italy 23 pts
Group C
Malta 2-3 Moldova
Turkey 0-1 Greece
Bosnia-Herzegovina 0-2 Norway
How they stand
1-. Greece 25 pts
2-. Norway 20 pts
3-. Turkey 18 pts
Group D
Ireland Republic 1-1 Cyprus
San Marino 1-2 Wales
Germany 0-3 Czech Republic
How they stand
1-. Czech Republic 23 pts
2-. Germany 23 pts
Group E
Russia 2-1 England
Macedonia 3-0 Andorra
How they stand
1-. Croatia 26 pts
2-. England 23 pts
3-. Russia 21 pts
Group F
Liechtenstein 3-0 Iceland
Denmark 3-1 Latvia
Sweden 1-1 Northern Ireland
How they stand
1-. Sweden 23 pts
2-. Spain 22 pts
3-. Northern Ireland and Denmark 17 pts
Group G
Luxembourg 0-2 Romania
Netherlands 2-0 Slovenia
Albania 1-0 Bulgaria
How they stand
1-. Romania 26 pts
2-. Netherlands 23 pts
3-. Bulgaria 18 pts