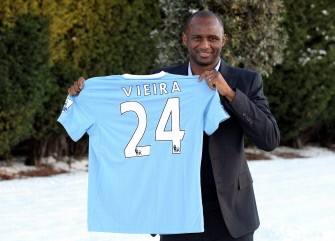 New Manchester City signing Patrick Vieira poses for photographers on January 8 (AFP photo)
MANCHESTER, England, Jan 8, 2010 (AFP) - Inter Milan midfielder Patrick Vieira on Friday completed his move to Manchester City.
France international Vieira, who becomes new Blues boss Roberto Mancini's first signing, has signed a six-month deal with an option for a further year.
The 33-year-old's deal at Inter was due to expire in the summer and the former AC Milan and Arsenal midfielder is desperate to secure first-team football as he bids for a place in France's World Cup squad.
Mancini, who worked with Vieira at the San Siro, told the club's website, www.mcfc.co.uk: "Patrick is a world class midfielder with a winner's mentality and will fit into this group very well.
"He knows me and my staff well, and importantly he also knows what the Premier League is all about. He will not need much time to settle in.
"Patrick is one of the great players of his era with almost every honour in the game against his name. I am sure City fans will welcome him warmly and appreciate the contribution he will make."
Vieira joined Arsenal from AC Milan in 1996 and went on to become a pivotal figure as the Gunners landed three Premier League titles and four FA Cups.
He moved to Juventus in 2005, spending one season there during which time the club claimed the Scudetto before being stripped of the crown due to the match-fixing scandal and consequently relegated to Serie B.
Vieira then joined Inter where he won three Serie A crowns and two Italian Cup titles.
He has won 107 caps with France, helping them to their 1998 World Cup and 2000 European Championship successes.
Although Vieira is no longer the dominant midfielder he once was, Arsenal boss Arsene Wenger believes he can make a success of his second spell in English football.
"At that age, it is very difficult to stay at your best if you do not play," Wenger said. "I was asked many times the question in France and have said Patrick needed to change clubs to play, so he could be competitive.
"For me, he has made the right choice. City have made the right choice, so it should be a good marriage."
Wenger had been interested in bringing Vieira back to Arsenal at the start of this season but finally decided he had enough cover in midfield with Alex Song, Abou Diaby and Denilson all capable of playing the kind of role in which the Frenchman thrived.
"Yes, I thought about it, but here we had players like Song coming out, and it was important that nobody stepped in front of them," Wenger added.
Tottenham boss Harry Redknapp revealed that Vieira had almost signed for Arsenal's local rivals before the start of this season.
"He showed a lot of bottle to want to play at Tottenham after being such a legend at Arsenal," Redknapp said. "That shows his character to want to take that challenge on.
"But it didn't happen because he got back into the squad at Inter Milan and it drifted. This time when he was available I did get some phone calls about the possibility again but we felt we'd moved on a bit from then and we were happy with what we had at the club."
Redknapp added: "I am sure he'll do well, he has a lot to offer. He's a leader and a winner and a terrific guy. The motive is to get back into the France World Cup team. He could have stayed at Inter and taken the money."
France coach Raymond Domenech meanwhile offered Vieira an assurance that he will be part of his World Cup plans as long as he is playing regularly.
"He needed to play again, it didn't really matter where," Domenech told L'Equipe sports daily. "But now, it's a bonus that he finds himself again at a very good club. It's good for him, it's good for Les Bleus.
"In so far as he plays and he is at his right level, there is no reason that he won't go (to South Africa).