The women's squad of Viet Nam beat Indonesia 3-0 on the first day of the VTV International Women's Volleyball Tournament on Monday in the northern province of Vinh Phuc.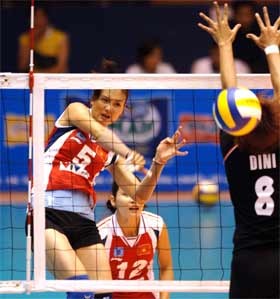 Viet Nam's Pham Thi Kim Hue (in red) scores one point in the Viet Nam-Indonesia match. (Photo: SGGP)
The hosts finished the first two sets at 25-9 and 25-10. Then, coach Pham Van Long put two substitutes into the pitch after his ladies advanced 7-3 in the third set. This was not a sound decision as the substitutes did not play well, thus affecting the whole team.
Indonesia equalized 7-7 and got ahead to 10-7. The Vietnamese women adjusted themselves to equalize at 17-17. The score kept going to 19-19 then the hosts cut their opponents' chase, winning at 25-20.
A weakness of the hosts seen in the match was that the second-string players failed to be good substitutes.
All eight teams attending the event battled on the opening day. China's Nankai beat Belarus 3-1 also in Group B. In Group A, China's Sichuan and Khacov University of Ukraine defeated Thai Juniors and Sri Lanka respectively at 3-0.
Si Chuan will play Sri Lanka on July 25 while Thailand will meet Khacov. The other matches are Viet Nam vs. Nankai and Indonesia vs. Belarus.