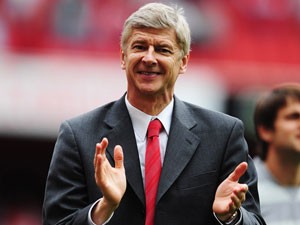 Arsene Wenger
England - Arsenal manager Arsene Wenger revealed his delight after his side came from behind to beat Liverpool 2-1 at Anfield on Sunday.
"The first half was all Liverpool and we were quite happy with the 1-0, it could have been two and the game could have been over," he told Sky Sports.
"We needed another performance in the second half and what we did, we gave a great performance. The first half was Liverpool, the second half was Arsenal."
Cesc Fabregas revealed that his manager was scathing after his side's first half performance and Wenger was coy on his remarks during the interval. He did, however, explain the reasons for his displeasure.
He added: "Well, I do not like to talk about that. It was in the dressing room, what I said, and I'll keep that in the dressing room."
"We lost all the 50-50's and we know it was absolutely needed to win this game, to do it.
"When you lose all the 50-50's in the big games then you don't win the game and I just wanted to make the players conscious that the Liverpool commitment was stronger than ours."
The Arsenal boss said he was delighted with the character his side showed in the second half, and believes his charges triumphed over their fear of the big occasion.
He continued: "It showed me the team can respond and that they are proud and they knew as well, certainly, that they didn't produce the quality that we wanted.
"I believe that's good for our moral because I could see – I do not put the first half down to a lack of desire, but I believe because we lost against Manchester United and Chelsea that there was a fear to lose the big games.
"You could see that more in the first half."
Asked whether this result proves Arsenal will not need to invest in attacking reinforcements in January, Wenger seemed to agree with the sentiment.
"Well the only thing I can say is, if you look at the number of goals we have scored we are not short of strikers," said the Arsenal manager. "Andrey could have had two or three, so since he plays up there he has plenty of good chances."