The Brazilian national team arrived late Sunday in Germany, nine days before the defending world champions play their first game of the 2006 World Cup finals.

Led by Ronaldinho, the team landed shortly before midnight in Frankfurt on a Euro wings flight from Geneva, where they defeated New Zealand 4-0 in their final friendly match before the tournament.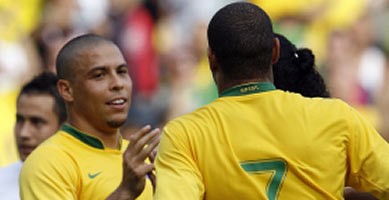 The Brazilian national football team

The Selacao, five-time world titleholders, drove by bus to their hotel. Their first public training session is scheduled for Thursday.

Brazil plays June 13 against Croatia in Group F, followed by Australia on June 18 and Japan on June 22.
(Source: Frankfurt Magazine)