Forty-seven Vietnamese and five foreign players are competing at the third International Three-cushion Carom Billiards tournament that opened on August 15 in Lucky Square Centre in the southern province of Binh Duong.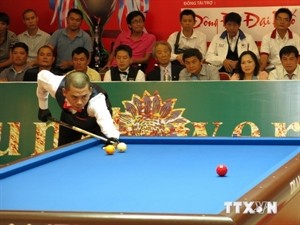 2013 national champion Duong Anh Vu (Source: VNA)
According to the organising board, eight domestic players are among top seeds of the tournament, including 2013 national champion Duong Anh Vu, runner–up Ngo Dinh Nai, and 2012 runner-up Nguyen Quoc Nguyen.
They will face big names from Japan and the Republic of Korea, including Japan's 2013 national champion Takeshima O, who now ranks 27th in the World Billiards Federation rankings, and his 2014 champion peer Arai Tasuo.
Three players from the Republic of Korea are also among world top 30, including Cho Jea-ho, Heo Jung-han and Oh Sung-kyu.
Notably, Cho Jae-ho is currently No.1 player in his country and among the world's top ten.
The players will compete in six rounds from now until August 17 with all matches broadcast live on television channels BTV2, BTV5, VTC3, AVG and HTVC.
This year's total prize value will be doubled to 100 million VND (4,700 USD), of which 40 million VND (1,880 USD) will go to the champion.