The International Women's Volleyball Tournament - the Binh Dien VTV Cup 2008 - officially ran its first round with two matches on January 13 in Viet Nam's Dak Lak when the host gained both landslide victories over their foreign opponents.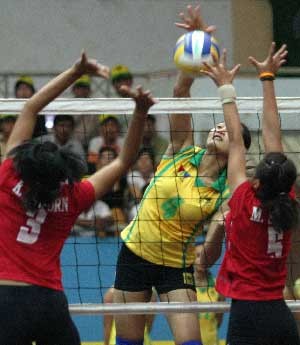 VTV Binh Dien Long An's Khannan did a smash over the defense of Nakhorn Ratchasima
The 2007 defending champion Long An (LA) was a little bit nervous at the beginning but soon overwhelmed their strong Thai opponent, Nakhorn Ratchasima. 

LA gained three wins - 25-21, 25-10 and 25-15 - in all three games.
Another Vietnamese team, named Bai Bang Paper, also defeated their Sri Lankan competitor 25-13, 25-21 and 25-10.
The 2008 Binh Dien VTV Cup is organized by the Binh Dien Fertilizer Company and HCM City Branch of Viet Nam Television over January 13 – 20 in Dak Lak Stadium.

The event will consist of two categories of which category A includes VTV Binh Dien Long An, Bai Bang Paper, High Command of Communication, Sri Lanka and Thai Nakhorn Ratchasima while category B includes Thai Kamphangphet, Song Ma Thanh Hoa, Industrial and Commercial Bank, Vital Petechim Thai Binh and a Chinese club.

Total prize is up to US$17,000. The new champion is to be rewarded US$5,000 and the VTV Binh Dien Cup.