DOHA, Jan 11, 2011 (AFP) - Three-times champions Iran stormed back from the shock of losing an early goal to grab a 2-1 victory over arch rivals and holders Iraq at the Asian Cup Tuesday.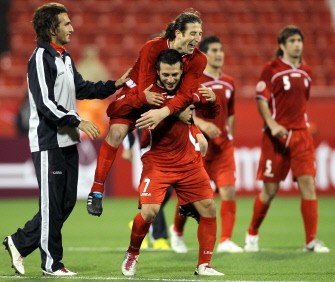 Iran's players celebrate after beating Iraq in Doha on January 11, 2011. Iran won 2-1. AFP
With United Arab Emirates and North Korea playing out a 0-0 draw earlier, Iran top Group D after the first round of games.
Iman Mobali was the hero for Iran, his free-kick -- which was an intended cross -- drifting in with six minutes left for an emotional win that his side just about deserved.
There was a brief period of silence before the highly anticipated clash at a half-full Al-Rayyan Stadium for 77 people who died on Sunday evening in an Iran plane crash.
Iran coach Afshin Ghotbi dedicated the victory to the victims, then admitted it was a "special" win in what was one of the biggest games of the tournament so far.
"When these two teams play each other there's so much rivalry and history, so it's very difficult to get the players to concentrate and focus on football and it becomes a fighting game," he said.
"I was very happy my players were able to concentrate and could get this very special three points."
Iraq's German coach Wolfgang Sidka denied it was especially painful to lose to their great foes.
"It was a very tough game and a very exciting game, a real fighting game," said Sidka. "But it's three points, that's all."
The game between two countries who fought a war from 1980 to 1988 sparked immediately to life.
The holders had the first chance after just four minutes when striker and Iraqi talisman Younis Mahmoud raced clean through on goal, but goalkeeper Mahdi Rahmati was up to the challenge, blocking the ball with his legs.
It was a powerful start by Iraq, the shock tournament winners in 2007, and a striker of Mahmoud's calibre -- joint top scorer last time around -- should have done better.
But the next time he did just that, sliding in at the far post on 13 minutes to score from close range after Emad Mohammed had cleverly nodded the ball back across goal.
There was little to choose between the neighbours, Iran's Hadi Aghili forcing Iraq goalkeeper Mohammed Kassid into a smart low save on 24 minutes with a header from a free-kick by Mobali.
Mobali summed up Iran's frustrations just after, needlessly booting the ball into the empty stand behind the Iraq goal after he accidentally allowed the ball to drift out of play.
But Iran, playing in red, began turning the screw on their rivals. On 42 minutes the equaliser came, as former Bolton Wanderers man Andranik Teymourian chipped the ball cleverly through to an unmarked Gholam Reza Rezai.
Rezai, who had just stayed onside, duly rifled the ball past Kassid for a leveller that the Iranians fully deserved.
"It was important to score the equaliser in the first-half and I was confident that we had the quality to do that," said Ghotbi. "From my experience playing against Iraq they are masters at killing time in the second-half."
There was a brief coming together between the two sides on the hour after Mahmoud had bundled and bamboozled his way between two Iran defenders, conceding a foul for his efforts and sparking a brief but half-hearted melee.
Chances on goal were scarce now, as both teams struggled to keep the ball, and the game became increasingly bitty, its rhythm interrupted by niggly fouls.
With the match threatening to peter out, Iranian dangerman Rezai thought he had won it with 15 minutes to go when slack defensive play by Iraq left him all alone in the box, but he fired into the side-netting.
Then came Mobali's late intervention, his fortuitous goal sending the Iran fans wild.