Iran crushed Viet Nam in the second semi-final match of the Asian Football Confederation Futsal Championship in Tashkent, Uzbekistan.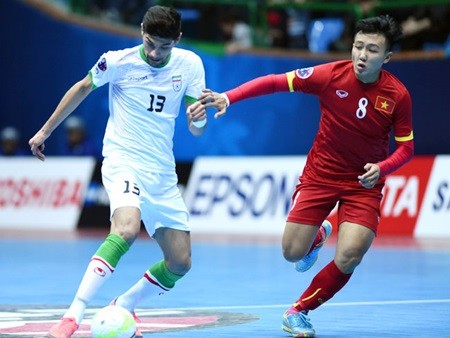 Vietnamese forward Nguyen Minh Tri tries to prevent Farhad Tavakoli of Iran during their semi-final match of the AFC Futsal Championship. Iran won 13-1 and advanced to the final. — VNS
The 10-time champions met no resistance in a 13-1 victory at the Uzbekistan Stadium, advancing to the final where they will play the hosts tomorrow.
Farhad Tavakoli scored four times, Hossein Tayebi had a hattrick while Mohammad Keshavarz and Mahdi Javid made a double each for Iran. The two other goals went to Hamid Ahmadi and Alireza Vafaei.
Phung Trong Luan netted the only goal for the underdog side at the 16th minute when he slid in and sent the ball into the net.
The second half was no better for the Vietnamese. Almost of their attacks were blocked by the tall Iranian defenders. Their very rare chances were denied by goalie Sepehr Mohammadi and the goal posts.
Viet Nam will play Thailand in the bronze-medal play-off match.
Earlier, Konstantin Sviridov scored the winning spot-kick to send hosts Uzbekistan into the final in a 3-1 penalty shootout win over Thailand in the first semi-final match after the game at Uzbekistan Stadium ended 2-2 after extra time.
Australia emerged as the fifth and final team to qualify for the World Cup after defeating Kyrgyzstan in the fifth-place play-off match.
Australia join Iran, Thailand, Uzbekistan and Viet Nam, who earlier secured their places after advancing to the quarter-final stage of the biennial competition.
The result is a historic achievement for Australia, Uzkekistan and Viet Nam as they will be competing in their first-ever FIFA Futsal World Cup. The achievement is especially momentous for Viet Nam, as it represents the Southeast Asian country's first ever appearance at a FIFA final tournament of any kind.
Asian Football Confederation President Shaikh Salman bin Ebrahim Al Khalifa offered his congratulations to the five teams: "I would like to congratulate Australia, IR Iran, Thailand, Uzbekistan and Viet Nam for their brilliant performances at the 2016 AFC Futsal Championship.
"Three out of the five Asian teams will be competing in the FIFA Futsal World Cup for the first time. The remarkable accomplishment of these three teams highlights the progress made in recent years in our continent," he said on the-afc.com.
"The high-tempo, captivating matches and stunning goals at the AFC Futsal Championship exemplify the role futsal continues to have on player development. I am confident that the Asian teams will do us proud and we expect more riveting displays in Colombia."
The eighth edition of the FIFA Futsal Word Cup will commence on September 10, with the final taking place on October 1.