ROME, April 29, 2010 (AFP) - The Italian press was unequivocal in its praise for Inter Milan coach Jose Mourinho on Thursday after his team ousted holders Barcelona to reach the Champions League final.
So often the local media's favourite pantomime villain, Mourinho finally found himself lauded from all corners after his team's rearguard resistence saw them progress 3-2 on aggregate despite a 1-0 defeat in the Camp Nou on Wednesday.
And the Italian champions' defensive stubborness despite playing most of the game with 10 men particularly caught the eye in a country famed for its creation of the famous defensive-minded catenaccio style of football.
"Inter wall of glory," screamed La Gazzetta dello Sport. "Epic Inter. They resisted Barca with 10 men. The magician Mou is flying to Madrid."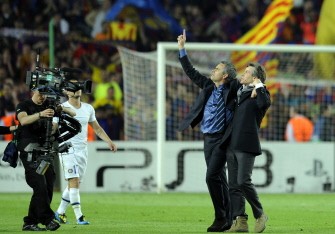 Jose Mourinho (C) celebrates after winning the UEFA Champions League semi-final second leg football match Barcelona vs Inter Milan on April 28, 2010 at the Camp Nou stadium in Barcelona. AFP photo
Thaigo Motta's sending off after just 28 minutes for raising an arm to Sergio Busquets's face put Inter on the back foot for the rest of the match and Gazzetta hailed the players as: "Mourinho's heroic lions."
"They qualified thanks to the incredible defensive strength marshalled by (Walter) Samuel but it is the whole team that deserves praise as they showed just how important each person's individual sacrifice is, starting with the forwards."
Corriere della Sera waxed lyrical over Mourinho's coaching skills, while also likening the Inter defensive wall to the French Maginot Line, constructed during the 1920s and 1930s to protect the country from a German invasion.
But whereas the Germans easily circumnavigated the Maginot Line by invading via Belgium, Barcelona found no such alternative route to get in behind Inter's defences.
Corriere credits Mourinho with Inter's qualification while curiously praising the former Chelsea boss's attacking instincts in a game in which his side finished with just 24 percent of possession.
Corriere were notably impressed with the fact that Mourinho left his attacking players on the field until the last 10 minutes when finally he decided he would not need them any more and threw on defensive players.
"Barcelona are predictable like all geniuses. Michael Angelo does Michael Angelo, Picasso does Picasso," it said.
"The difference comes from he who needs to save his life. Mourinho left his forwards on right to the end. He showed his respect for football."
It was down to La Repubblica to point out Inter's return to their traditional catenaccio roots.
"It was a deserved success. You could say a victory for old school Italian football. It seems moreover that it is a heavy, hard defeat for football as played by Barcelona.
"It's fantastic, with top technique, it makes the supporters happy but it doesn't always work."
La Stampa for their part said Inter had dealt Barca "a lesson in maturity and not against anyone but the champions of Europe."