ROME, Aug 22, 2010 (AFP) - Italy's Serie A was once the European superpower in football, the richest league in the world that attracted the best and highest paid players on the planet.
But while it has been well documented that Serie A has been over-taken by both the English Premier League and Spanish La Liga on the playing front, to the point that it struggles to attract top foreign stars any more, there has been another talent-drain also affecting the country.
Italy can boast some of the best and most famous coaches in the world such as Marcello Lippi, the 2006 World Cup winning coach currently unemployed, Fabio Capello, the legendary ex-AC Milan boss who enjoyed success in Italy and Spain and is now England manager, or the great Giovanni Trapattoni, who led Juventus to the pinnacle of Serie A, at this moment the Republic of Ireland manager.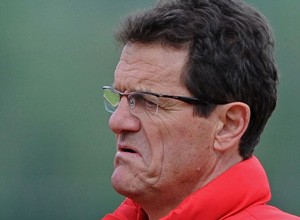 Italian Fabio Capello, England coach (AFP)
Italy has other contemporary coaches who have enjoyed great success such as Chelsea's Carlo Ancelotti or Roberto Mancini of Manchester City, both of whom lifted Serie A titles, even Luciano Spalletti is well on his way to guiding Zenit St Petersburg to the Russian title.
And what do all these coaches have in common? None of them work in Italy any more.
The current league campaign will begin next week without a single coach that has previously won the Serie A title.
AC Milan's Massimiliano Allegri's greatest achievement in football was guiding minnows Cagliari to the brink of European qualification.
Luigi Delneri of Juventus ejoyed his best season last term by taking Sampdoria to fourth place and Champions League football.
AS Roma's Claudio Ranieri has had a colourful career at Fiorentia, Chelsea, Valencia, Juventus and his current employers, guiding them all to lofty league finishes but his only silverware was a Spanish Cup with Valencia and an Italian Cup back in his Fiorentina days.
The only man in Serie A who has really won things is new Inter Milan boss Rafael Benitez, but his successes came in Spain and England; in Italy he is a mere debutant.
In a way it could be seen as a great leveller in a league headed by Inter for the last five years, as no team can call on a coach who knows what it takes to win Serie A.
But it may also give reigning champions Inter a clear advantage as they are the only team to be employing a coach who has a history of success.
Benitez's CV from his Valencia and early Liverpool days was very impressive.
In five seasons from 2001-2006 he picked up the Champions League, UEFA Cup, two Spanish titles and the English FA Cup.
But even so, if Benitez is the star coaching import in Italy, he is one whose light had been gradually fading over the last few years in England.
Italy not only cannot attract the best players anymore, they can't attract the best coaches either because, let's not forget, Benitez's arrival comes as one of the few true coaching superstars, Jose Mourinho, left for Spain.
It is a sorry tale in a period that has seen Italy's results on the pitch gradually worsen while the league has become a less attractive option for the world's best: players and coaches alike.
That none of Trapattoni, Lippi, Capello, Ancelotti, Spalletti or indeed Mourinho choose to ply their trade in Serie A any more should be as much a cause for concern in the country as the loss of the likes of Kaka, Zlatan Ibrahimovic and even young Italian talent Mario Balotelli -- all tempted away from Italy in the last 12 months.
Italy is simply no longer regarded with the same prestige as it once was.