SION, Switzerland, June 4, 2010 (AFP) - The Ivory Coast football team were anxiously waiting for news on Friday after captain Didier Drogba sustained a fractured forearm that could rule him out of the World Cup.
The 32-year-old Chelsea striker was hurt by a robust challenge from defender Marcus Tulio Tanaka during the Ivorians' 2-0 friendly win over Japan here, in which Drogba scored the opening goal with a deflected free-kick.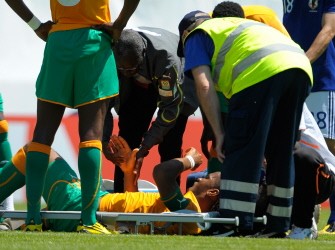 Didier Drogba (down) is seen to by a medic following a collision with Japan's Marcus Tulio Tanaka during a friendly international football match at the Tourbillon stadium in Sion on June 4, 2010. AFP photo
"Didier Drogba has not for the moment pulled out (of the squad)," the Ivorian Football Federation (FIF) said in a statement on its website, as rumours abounded that the player would not recover in time.
Drogba gave way to CSKA Moscow forward Seydou Doumbia and hurried off for a scan at a local hospital.
"Didier Drogba was injured just above the elbow," said Elephants coach Sven-Goran Eriksson.
"We do not know if he will be able to play the World Cup. Of course it is very worrying. He is our skipper and our best player. I have not as yet spoken to him but what is certain is that he was in great pain."
French media reports quoted Drogba as saying he would miss the tournament and his team-mate Kolo Toure told reporters: "The World Cup is finished for him."
Following his hospital scan Drogba was seen by reporters with his arm in a sling and held protectively under his vest.
French sports daily L'Equipe reported on its website: "After tests the player confirmed to us he would not be able to play in the World Cup."
However, a later story on the site claimed that Drogba "finally decided to have an operation" and hoped "to be fit in 10 days", which would theoretically enable him to play in Ivory Coast's Group G opener with Portugal on June 15.